How Wellness Programs Can Cost the Sick
By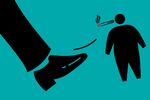 Workplace wellness programs sound like a win-win: Employees get discounted gym memberships or help quitting cigarettes, and their company gets a healthier staff and lower insurance rates. For companies, the deal is about to get even sweeter.
The health reform law will soon let employers reward workers' efforts to get healthier with discounts of up to 30 percent of their health-care costs, up from 20 percent. They will also be allowed to penalize employees who fail to meet health goals by the same amount—a provision that could be abused to "weed out sick workers," says JoAnn Volk, a researcher at the Georgetown University Health Policy Institute.
Some 61 percent of employers give workers financial incentives to get healthier, up from 36 percent three years ago, according to a new survey of 512 companies by Towers Watson and the National Business Group on Health. One in five uses penalties, and more say they plan to next year.
Volk says "most (current) programs are offering the carrots rather than the sticks." But in a new paper, Volk and co-author Sabrina Corlette suggest that "if poorly designed, workplace wellness programs can shift costs to those with the greatest health care needs" and potentially discriminate against sick workers.
The Georgetown authors cite one wellness program that wields a stick. It suggests employers raise deductibles from, say, $500 to $2,500. Workers can then "earn credits" worth $500 each to lower the deductible if they meet certain targets for four factors: body-mass index, blood pressure, cholesterol, and tobacco use. A nonsmoking, normal-weight employee with healthy cholesterol and blood pressure winds up back at the $500 deductible. "If you're on the wrong end of any of those four tests, your costs have gone up," says Volk.
The paper doesn't name the program, but the example it quotes appears on the website of BeniComp Advantage. The Fort Wayne (Ind.) administrator of wellness plans promises to lower employer health costs by 12 percent to 18 percent and suggests that workers who need more health care will pay more. "Unearned credits shift claims costs to higher utilizers of the plan," the website says, who "may be motivated to consider other coverage options." It also says participation is voluntary: "Employees who do not participate simply have a higher deductible."
Doug Short, BeniComp's president, says the only way to reduce health costs is to motivate people with money. He says the incentives only apply to things workers have control over. "You're not going into a health plan and putting a clamp on somebody who has cancer or somebody who has had a stroke," he says.
On average, workers enrolled in BeniComp's program earn 3.7 of the four credits they can get, according to Short. Hundreds of employers use the wellness plan, he says, and they can calibrate the incentives as they see fit. One company kept workers' deductibles the same just for taking an initial health screening. Workers' and employers' goals are aligned, Short says: "Our risk, our cost goes down if we can get you to earn all your credits."
BeniComp's arrangement raises a fundamental question: How much should people bear the cost of their own health care? People buying health insurance on their own pay as much as 23 percent higher premiums if they smoke or are obese, according to data from eHealthInsurance, an online marketplace. And such incentives are routine in other insurance markets: No one questions why good drivers pay lower rates than the teen who just wrecked Dad's car.
The Georgetown authors say they want to make sure wellness incentives actually make people healthier and don't just shift costs onto sick workers. Corlette suggests arrangements like BeniComp's may not help. "There's really strong research showing that the higher the deductible, the greater the barrier to accessing care," she says. "Someone may not be getting basic primary care or necessary care to treat a chronic condition." If that's the case, sick workers get sicker, and cost the health system more in the long run. Sounds like a lose-lose.
Before it's here, it's on the Bloomberg Terminal.
LEARN MORE