pursuits
Hitching a Ride on a StartupBus Bound for Austin: Part III
Alexandra Wolfe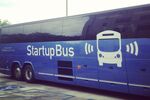 Cameron Keng is still in his pajamas. After coding all night at the alumni hotel on the LSU campus, he's downing Coke Zero and catching some air before he heads to the back of the bus with his TaxCast co-founder, Sohel Siddique. Five new buspreneurs from Florida, founders of the newly created BumperCrop, have joined us today. After carrying their pillows down the aisle, they set up their laptops on one of the bus's table configurations near TaxCast.
The TaxCast founders just spent the night on the floor of the hotel lobby, sleeping for two hours, from 5 to 7 a.m. "Someone came in and laughed at us," says Keng. The Cook Hotel had only 40 rooms allotted for more than 150 entrepreneurs, and two guys had taken their room. So they used towels and jackets as blankets. "It was pretty shameless," says Keng. They still managed to build an interactive spreadsheet, a tax-predicting algorithm, and an infographic asking the questions "How much in taxes do you pay? Are you struggling with receipts? Is the IRS your secret boogie man?"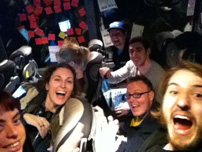 We're in the parking lot waiting for the bus to start rolling. The air conditioning hasn't kicked in yet and without sleep everyone's already feeling a little loopy. "This bus feels like slow death!" one buspreneur says. "Take me sweet embracive death!" Then another pipes up: "We're not overly dramatic or anything!"
Caprio holds up a new brand of tea for the journey. "The tea that's being passed around is a local D.C. brewer Tevolution, which gives 25 percent of its profits to charity." Everyone lurches for the cool beverages. When the air comes on, everyone claps.
The seating arrangement has been altered with the arrival of the Floridian BumperCrop team. Now I'm sitting next to Lawrence O'Toole, who has graciously let me borrow his power cord. A designer from Philadelphia, O'Toole, 36, used to work at Scunci (which came to be called "Scrunchie," after the ubiquitous 1980s hair-tie). After starting his own marketing company, Primer, and working with clients such as Wharton Business School on their new business and alumni development, he left a year and a half ago to freelance in New York, most recently doing contract work for Google Creative Labs.
O'Toole is here developing the startup JukeMob, a social jukebox that allows people to vote on what music they want to hear at any given venue. He and his team were up until 5 a.m. this morning dealing with issues like monetization, engagement, user recruitment, and record-label distribution. "Everyone who's heard about it instantly gets the idea and likes it," he says. "So no matter what the difficulties are, the core idea is a really good one." Their BUSDAQ stock hits $4.
As we drive through Louisiana past the Races and Aces Casino, the Bayou Belle Truck Stop, and the Boudin Shop and Country Store, members of each company take turns standing at the front of the bus and updating everyone else on their pitches. The new passengers from Florida, Team BumperCrop, introduce themselves.
"I personally am a backyard farmer," says Ryan Srofe, a deeply tanned, Tampa-based developer, who started the online tool to allow home growers to share and sell their food. "I have four tomato plants that make 100 tomatoes that I share with neighbors." Using the BumperCrop platform, he would be able to trade or sell those extras, or any fruit or vegetable anyone on the site is looking for. Srofe adds, "And I'm the guy who doesn't shave and I'm totally stoked to be on the StartupBus!"
Next is ReelTrend, the "emotional analytics company" for the film industry. Founder Brandon Root delivers his pitch. Afterward, Caprio and Justin Isaf, StartupBus's director of community who has taken a two-week vacation from the Huffington Post to join the trip, critique him. "Don't say to the music industry, who has done this for years: 'You don't know what you're doing!' " says Isaf. "You've only worked at this on a bus for three days!"
Stuck in traffic, we spend two hours inching through Iota, La. We're going so slow that at one point one of our two drivers, Alvin, has gotten out of the bus and is walking down the middle of the freeway at a faster pace than we are driving down it.
Next is Nate Cooper, a teacher who is the founder of Happstr. "Happstr is a happiness tracker," he explains, and describes how users push a "big friendly button" on their iPhones when they are happy, or they can search a "heat map" for the greatest concentration of happy people. "A Harvard study has shown that a friend of a friend being happy can increase [your own] happiness by 10 percent. And a friend of a friend of a friend, by 6 percent," he says. He closes his pitch by saying, "Find your happy place!"
Dunja Saleh-Zaki, a German blonde in her late 20s with long hair, baggy jeans, and thick-rimmed glasses, takes the microphone. She has just moved to New York from Frankfurt. "New York is the global hub for anything that's innovative," she says. For three weeks she couch-surfed until she found a place in Williamsburg, Brooklyn, two days before the bus trip started. She's on the JukeMob team.
"How many of you have had the experience of sitting in a bar and the music has sucked?" she asks. "You can either suffer through the song or leave. But we're going to give you the remote control to what's playing in your favorite bar."
We eventually stop at a Chevron for gas at about 6 p.m. Everyone gets a five-minute break, and then gets back on the bus to check in on FourSquare. They quickly find out that by checking in on FourSquare they can get a large soda inside for 39¢. Instead, everyone opts for beer.
It turns out that because of a government cleantech initiative, the new bus has been outfitted with an environmental exhaust filter. After sitting in traffic, the exhaust system has become clogged. So we either have to get back on the highway in 15 minutes and go 75 miles per hour for 45 minutes to burn it off—or we have to shut the bus down.
"It's a half-million-dollar bus," says one of our drivers. "Some scientist came up with this cleantech filter, but that's the stupidest thing invented."
We make it back onto the highway and finally arrive outside the Crowne Plaza San Antonio by 11 p.m. Here the buspreneurs will prepare for the semifinal competition at Rackspace. We all stumble off the bus, especially Caprio, who has slept five hours total all week—and the previous night in a closet.
(For our first two StartupBus dispatches, click here and here.)
(
Corrects spelling of Happstr in 11th paragraph.
)
Before it's here, it's on the Bloomberg Terminal.
LEARN MORE