B-School Research Briefs
Francesca Di Meglio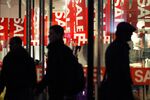 Studying consumers is a window into the economy's soul, or at least its potential. That's probably why so many business school professors have set their sights on consumers: what they buy, what influences their decisions, and the best ways to reach them. Here's a roundup of some recent and interesting B-school research related to consumers of everything from art to investments:
How to Improve Product Rankings
The Massachusetts Institute of Technology's Sloan School of Management recently shared research about how companies—from mutual funds to technology inventors—can get an edge on the competition by using product rankings to their advantage. By investigating 10 years of data from a major ratings company and information about how rankings are typically generated, Sloan professor Cynthia Rudin and her colleagues—Ford Motor executives and a graduate student—concluded that reverse-engineering the formula that ratings companies use to rank products can help organizations more effectively plan budgets and research, according to the paper How to Reverse-Engineer Quality Rankings. The idea is for companies to work backward, figure out what determines the ranking, and then respond accordingly with an improved strategy. Ultimately, said Rudin in a Sloan press release, the research should encourage ratings companies to be more transparent about the systems they use for rankings.
Reaching the Lonely Shopper
Stanford University Graduate School of Business professor Baba Shiv, along with colleagues from the University of Iowa's Tippie School of Management and the University of British Columbia's Sauder School of Business, recently focused on consumers, specifically lonely ones, and how they respond to product ratings. Their research showed there are more lonely consumers than companies think, many of whom tend to choose products fewer people seem to like, such as artwork. Having to make a purchase for public consumption, however, often prompted lonely hearts to go with the majority. Marketers can use this information to better appeal to the lonely, the researchers said.
Predisposed to Poor Investments
Do genetics play a role in investment behavior? Stephan Siegel, visiting professor at the Carey School of Business at Arizona State University, and Henrik Cronqvist, associate professor at Claremont McKenna College, think they might. The two analyzed a decade's worth of Swedish government records of investments in stocks, mutual funds, and bonds made by identical and fraternal twins. They found that from 26 percent to 45 percent of variations in behavior among investors is a result of genetics, according to a Carey press release. Bottom line: If you bomb in the market, blame Grandpa.