What Really Goes On at Conventions in Vegas?
What really goes on at conventions in Vegas?
By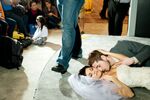 I am so close to fun. To freedom. I'm away from my wife, my family, my office, my boss. More importantly: I have an expense account. In Las Vegas. All I have to do is walk toward the exit—if I can find the exit—and wade through the thick carpet of these endless booths selling their confusing products, get past this awful concession stand selling pre-made sandwiches, burst out through the doors I vaguely remember walking in so many hours ago, and I'll be free from this fluorescent-lit hangar. Free to gamble and drink giant drinks and eat giant steaks and sit by the giant pool.
I am stuck on this convention floor because I agreed to go to seven conventions in three days to better understand a business that is as important to Las Vegas as the card tables, and presumably important to the 4.5 million conventioneers who come here each year and spend double what tourists do, according to the Las Vegas Convention and Visitors Authority. When the convention hours end, some will indeed go mad, like escaped monkeys.
At the end of the convention for Real Living, the residential real estate company, Tina Mitchell sits at a table with her face in her hands. One hand sports a giant plastic ring with blinking red lights. Mitchell is a mortgage banker for Cobalt Mortgage in Kirkland, Wash., who was invited here by two Real Living real estate agents she does a lot of work with. Last night she was out until 3:30 a.m. "I don't know where I was," Mitchell says. "I'm not drinking tonight." Someone hands her a brochure, saying, "We are a nationwide service for floor plan listings!" She nods, takes one, and puts her head back down.
Master MC, a man who enjoys redundancy in a moniker, gives out the light-up rings. A large man—both in height and width—he wears a bright pink four-button suit, sunglasses, and a hat. He performs at about 115 events a year and has brought three suits, several of them in animal-print, to change into during this two-day convention. He calls himself a corporate entertainer; his job is to keep people happy, and at the convention. "They're going out instead of staying here," he laments. "We lost a lot of people tonight."
That's the difficulty of throwing a convention in Vegas. Sure, you benefit from the "Las Vegas effect," which increases attendance by 5 percent to 10 percent because people like Mitchell want to come. But it can deplete the people who actually show up for your events by a far greater number. Which is why there are so few exit signs on a convention floor. It's why so many companies hire booth babes—models in some degree of undress who lure men in and then hand them off to a salesperson. And it's why MGM Resorts Events works with conventions held in their many hotels on the Strip to create keynote cocktail parties and awards galas that are more exciting than what lies outside the convention walls.
It's not an easy job. MGM Director of Events Lenny Talarico has a team of 94 people and a 100,000-square-foot warehouse full of 20-foot wooden cacti, pails of colored glass, and men sanding tables. He's got a Rolodex with celebrity chefs, models who play classical music, fireworks experts, and every 1970s band that's still standing. The convention business is so profitable for hotels that last year Talarico chartered a jet to fly 100 members of a high-end jewelry convention to the Mandalay Bay Convention Center and served them breakfast in a white-draped room designed just the way he thought their convention should look. He got the gig.
Almost all Vegas conventions run Tuesday through Thursday, since attendees travel in on Monday and no one wants to be away from the family on the weekend. Besides, Vegas needs its rooms for tourists on Friday and Saturday nights. But when I show up Thursday morning on the last day of the Western Veterinary Conference at the Mandalay Convention Center, most of the 14,874 attendees are gone. That's because no one shows up for the last day of a conference.
It doesn't matter if organizers reduce a three-day conference to two. People will just leave at noon on the second day. "You live with it," says Dr. Guy Pidgeon, chief executive officer of the Western Veterinary Conference. (His predecessor was Dr. Crane.) Pidgeon says he knows better than to try to throw a big party to compete with Vegas at night; you concede the night to Vegas.
The vet conference has been held here since 1964, when it left Utah so the animal doctors could drink. They also came here for economic reasons. "Veterinarians are a frugal group. Vegas in that era was a cheap date. It was the 99¢ shrimp cocktail and $1.99 steak," Pidgeon says. Now his doctors complain about $40 steaks.
Hotel owners first decided to lure conventions to Vegas in the 1950s to help fill the slow months the way they're now used to fill the slow days. The Las Vegas Convention Center opened in 1959. It's built on the site of the Landmark hotel and now contains 3.2 million square feet of show space, just part of the more than 10 million square feet of convention space in the city. These days, Vegas hosts hundreds of conferences yearly, despite the downturn, which is still causing companies to walk away from deposits on events they had planned long in advance. In the two days I'm here, in addition to the seven conventions I attend, there are also: the National Association of Truck Stop Owners Show, the Western Petroleum Marketers Association National Convention, the Convenience Store Expo (keynote speaker: Ben Stein), the Original Celebrity Impersonators Convention (highlight: a musical tribute to the late Whitney Houston), and at least 10 more.
Many of the attendees aren't here just to get away from work or because they want to do Vegas. A surprising number have no desire to leave the expo floors. Jeff Benzon, a wedding photographer from Harrisburg, Pa., spent almost $1,500 to come to the Wedding & Portrait Photographers International Trade Show at the MGM Grand. Benzon says this place—with fake brides and grooms posing for professional photographers in booths made of white tulle—makes him feel empowered and inspired. He came with his buddy Sten Hartman, and last night he was up until 3 a.m. at the Hard Rock Hotel. "We got drunk and stayed up doing lighting setups in our room," Benzon says. He intends to exaggerate the fun he had to his friends. "That's the good thing about Vegas. We can make it up when we get home."
Everyone, in every industry, eventually comes to a convention in Vegas. Still, it's weird to see Hasidic Jews here, from the camera shops in New York. Eli Schwartz, a salesman for Adorama Camera in New York, has never been to Vegas before. He loves it: "Someone stopped me in my hotel and said, 'What are you doing in Vegas? You can't gamble.' I said, 'I like to watch other people gamble.' " He's seen Cirque du Soleil's O and Criss Angel's magic show. "It was amazing. Sick!" he says. "He's chopping people in half!"
There are people who are generally immune to the attractions outside the halls: people who have been to Vegas conventions before. El-Deane Naude, Sony's product information manager, was born for Vegas. His dad couldn't decide whether to name him after Elvis Presley or James Dean and decided to split the difference. He's answering some questions about a new camera for three guys, while on the stage behind him in his booth a photographer is taking shots of a heavily tattooed platinum-haired burlesque model with enormous cleavage.
Naude used to be in Sony's trade show group, doing 200 days a year at conventions, many in Vegas. In 2007 he checked into the Paris Las Vegas hotel and when the woman behind the counter noticed that he was staying for 16 weeks, she upgraded him to the penthouse. When he came home, his 3-year-old daughter was thrilled to see him. "She ran to my wife and said, 'Mommy! Mommy! Daddy's come to visit!' It broke my heart. It was the worst thing I ever heard," Naude says. That's when he quit organizing trade shows. Now he just comes as a salesman.
He's got the croak of a marine boot camp instructor, having to yell over the noise of a convention and cope with the dry, recycled desert air. "Usually I lose my voice on Day Two, but this time it's Day Five," he says. His first two times in Vegas, he partied. Then he learned to sleep instead. He tries to stay in a small hotel that doesn't have a casino or a taxi line and doesn't allow smoking: The Renaissance is his favorite. He wears Ecco shoes so his feet won't hurt. His first stop after landing in Vegas is a supermarket or drugstore where he buys lots of bottled water, lozenges, and lip balm to combat the dry air inside the halls, and 5-Hour Energy shots, with which he starts his day, since coffee isn't strong enough. He purposely brings too few business cards—about 500—so he doesn't have to give them to end users who will call him about fixing their cameras. He packs fruit or picks up a sandwich and eats it outside for lunch, because the lines at the restaurants and concession stands are long, because you need to get off the floor and see the sun, and because you can't eat a big lunch when you're taking clients out to expensive dinners. His Vegas life might be tame, but he still keeps part of it to himself. "I play it down for my wife. Not because I do anything. I come home tired and all I want is a home-cooked meal, and she says, 'You went out to all these great dinners. I want to go out.' "
What Naude knows is that he will not beat the house. You might feel like you're on vacation. You might feel free. You might feel like you're getting the better of your boss. You're not. Your company is getting more use out of you than they do back home. Even when you're finally eating that steak. Even when you're playing craps. You will be networking for them the whole time. They will win. You will lose. Even if you don't know it. And by the time you go to your third Vegas convention, you know it.
Dr. Robert Rowley, the medical director of San Francisco-based Practice Fusion, which creates free, Web-based electronic health records, has spent the whole day at the Healthcare Information and Management Systems Society Conference and Exhibition (HIMSS) at the Venetian's giant Sands Expo. It's a show with more than 37,000 attendees. The place is like a small city. Vegas conventions with more than 10,000 attendees are known as "citywides," since the guests are spread out over many hotels. The largest, the Consumer Electronics Show, had more than 153,000 participants this year. The place is so big that over dinner Rowley and his co-workers compete to see whose Fitbit tracker shows they walked more on the floor today. The average is seven miles.
The HIMSS attendees profess to be shocked that they are the only ones in the hotel gym and claim that people give them funny looks when they jog on the strip. Back upstairs, Carina Edwards, the vice president of solutions marketing for Nuance Communications, which does voice recognition, says her colleagues pitied her when they heard she was going to Las Vegas. "We're not used to the smell," she says. "We're going to a meeting at 6 a.m., and these people are going to their room wasted. You feel bad for them."
Then a doctor I meet in the elevator tells me he was up until 3 a.m. playing craps and roulette and is going to do it again. So I go on Craigslist, and among the 33 ads for casual encounters listed under "Vegas conventions," four of them mention the HIMSS conference specifically. One contains the line, "If you are married, I'm cool with that." Another guy looking for a woman wrote, "I'm 41 sane and looking for a dinner date. See what happens … Had a great dinner with some[one] from McKesson at HIMSS in Atlanta two years ago."
People act differently at a convention than they do at home. Way different. "I've seen so many bad things happen," says Chel Pelletier, the event marketing manager for Cassidian, a mobile radio company that has a big booth at the International Wireless Communications Expo, which is actually a convention for public safety technology, an industry that 10 years ago was basically walkie-talkies until Sept. 11. "I think it's a stupid idea to hook up with someone you're at a convention with. New Orleans is so bad. I've seen a woman leave her purse in a guy's hotel room, and he returned it at her booth. In front of her boss."
Conventions feel a bit like summer camp, only instead of signing each other's albums and promising to stay in touch forever, these people really do stay in touch forever. At Composites 2012—where race car driver Rusty Wallace told the 3,500 attendees in his keynote speech that composites made his car and helmet much lighter—I see my first scanner. The person behind the booth aims it at your badge and all your info is immediately dropped into a database. Business cards are still handed out from booth operator to attendee, but not as much vice versa.
At first I thought that conventioneers continue to wear their badges around their necks even when they leave the hall—to restaurants, to the craps tables, to their rooms—because they were proud to be at an IT convention or whatever. But it's actually because conventions charge you a lot to replace a lost one. The Western Veterinary Conference's $25 fee is a bargain; some will charge the entire registration price, $500 to $1,000, since you could hand your supposedly lost badge to a colleague who didn't pay. Every badge giver I talked to, however, said a little kindness and charm would cause her to waive the fee.
The fee—and most of these conventions are run by for-profit companies—is almost always worth it for your company. Even if your company is a head shop. Just on the other side of the Las Vegas Convention Center from the public-safety tech convention is Champs, a business-to-business expo for people who sell smoking-related products that they claim have absolutely nothing to do with marijuana. These include enormous bongs, drinks that mask your urine for drug tests, and bags that won't release odor. Back at the health IT convention, when I told Surgeon General Regina Benjamin that the Champs trade show was going on at the same time, she said excitedly, "I should go there and talk about tobacco prevention and give my anti-smoking message. I'll have to look into that for next year." This is a very bad idea.
Champs looks just like Burning Man if everyone at Burning Man made $100,000 less a year. To give a sense of how crazy it is: This is the first convention floor I've walked on without carpeting. All conventions have carpeting, and each booth then adds a second layer. After seven miles of walking in dress shoes, you're as likely to visit a booth for its thick carpeting as for its free USB drives. At Champs, it's almost all concrete.
There are, however, a lot of booth babes. At least four are wearing nothing but hot pants and body paint, with marijuana leaves drawn on their chests. Others wear school-girl outfits or neon bikinis. If you get too close, they're likely to put a sticker from their company on your shirt.
A lot of business gets done here. The place doesn't fill up until 2 p.m., but that works out well for Jay, a partner at Pure Glass who does not want to give his last name. It's 5 p.m., and Jay, who is surrounded by a dozen strippers he brought with him from Los Angeles in a party bus, did not go to sleep the night before. Still, he estimates he'll do 20 percent of his annual sales at this convention. Zong!, a Phoenix-based company with a booth nearby that sells giant, beautiful glass bongs, says 75 percent of its new business originates at Champs. For three days, the woman who owns the company only leaves the booth to go to the bathroom.
So much business goes on at Champs that the show takes place three times a year, twice in Vegas and once in Atlantic City. "There's a lot of churn in this industry," says Ben Galecki, the co-owner of Zencense, a company in Pensacola, Fla., that sells herbal incense. Galecki is doing what everyone who runs a booth at every convention has to do: fill out a bill of lading. He had to move the poker table his booth babe was using to give out Zencense tchotchkes to the back of the room so the company he rented it from can pick it up. Only he can't do it himself. He has to pay the teamsters $100. And fill out their paperwork.
Everyone at every convention I've attended complains about how tired they are. Convention tired is different from wedding tired, which you get from having to smile and make small talk. It's different from mall tired, which you get from constantly making meaningless micro-decisions of where to walk, which stores to enter, and what to buy. It's different from museum tired, which you get from starting and stopping and having visual overload. Convention tired has all those components, but it's worse because of the time-expanding nature of the event, where every hour feels like four. Despite all the gadgets and futuristic-shaped tents, the convention is a lot like a medieval mercantile fair. There are few screens here. People talk. I bet weavers went to bed at 9:30, too.
It is not even 10 p.m. and I'm in my bed, about to go to sleep. In Vegas. I do not go to sleep at 10 p.m. at home. I should be playing poker, getting a buzz on free whiskey sodas as I prepare to go to dinner and then an ultra-lounge and then a strip club and then some kind of after-hours ultra-lounge where strippers hang out. My brain wants to do those things. My body wants to do those things. But my eyes. They are immune to all the Red Bull, 5-Hour Energy drinks, and visual stimulation. My eyes are convention tired.
Before it's here, it's on the Bloomberg Terminal.
LEARN MORE