The Stafford London's Expert in Satisfying Desire
Your concierge, an expert in satisfying every need
By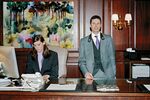 A concierge rarely says no. If a client asks for the impossible—a reservation for eight at Gordon Ramsay's three-star restaurant in Chelsea, which is booked two months in advance and, anyway, doesn't have tables that large—the concierge doesn't embarrass the client in front of his colleagues. The concierge doesn't say this will never happen, you're living in a dream world, or any of the other things he may be thinking. The concierge takes the client's contact information and sends him along. Later, the concierge offers an apology and an alternative.
Frank Laino (pronounced Lay-no) is the source of much wisdom on matters such as this. For the past 13 years he has manned the concierge desk in the Stafford London, a small and grand old hotel. Every weekday, often for 12 hours at a time, Laino is available for consultation or just chatter. He is masterful at executing almost every kind of request. He will buy clients aspirin, knickers, tickets to sold-out events (if he can do so legally), and even old double-decker buses. The one he purchased, part of a fleet being sold off, cost about £10,000 (about $15,860). Shipping it to the Texan who asked for it on a whim cost another £10,000. Laino isn't looking forward to having to find spare parts.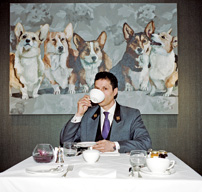 Laino, 52, is short, with a full head of dark hair and sharp green eyes that suggest remarkable attentiveness. He wears a gray frock coat, a sharply pressed white shirt, and polished black dress shoes from bespoke boot maker John Lobb. On his lapels are pins, both crossed keys, denoting his membership in Les Clefs d'Or, an elite group of standard-setting concierges. He knew hotel life was for him as soon as he started as a messenger for a reception desk in his late teens. He was headed toward a management position at the Westbury in Mayfair when he realized he might make a better concierge. "I love the whole entrepreneurial thing," says Laino. "The best concierges are streetwise. They're dogged. But that will only get you so far. You also have to have finesse. You have to be charming. You can say that about a lot of jobs and life in general, but particularly in our job that, above all, is important."
Laino's hotel sits in the center of London, at a quiet remove, on a cul-de-sac. Buckingham Palace is nearby. St. James's Palace, once home to Prince William and still secured by the Grenadier Guards, is just down the way. Rupert Murdoch's townhouse is across the street. So is one of the biggest residences in London, owned by a Greek shipping tycoon who rarely visits. On the main street are the royal barbers, Truefitt & Hill; the shop where Winston Churchill bought his cigars, JJ Fox; and Berry Brothers & Rudd, a wine store that's been in business since 1698.

The Stafford has been operating as a hotel for 100 years; among the ways it's celebrating is by offering a £100,000, three-day package, which includes a grand suite, a private butler, and a Rolls-Royce. The hotel's Main House was once a residence and feels like a club. The Carriage House, looking onto a cobbled courtyard known as Blue Ball Yard, used to be the neighborhood stables. During World War II the Stafford served as a club for American and Canadian officers, and these days about half the guests are North American. In February, a quiet month, prices range from $370 to $3,100 a night. Three years ago the 105-room hotel was sold for $122 million to the El Sharkawy family of Egypt, which hired Kempinski Hotels, founded in Germany, to manage it. If anything, the hotel has become even more British since. On the menu at the new Lyttelton restaurant are a haunch of venison with black pudding and a whole roast partridge with smoked pig's jowl.
Laino writes a monthly newsletter, Frankly Speaking, with brief descriptions of exhibits, events, shows, and restaurants in London. It's available on the hotel's website and Facebook page and in the rooms. Sometimes the most popular restaurants hint that they'd like to be left off his list because they can't accommodate all the Stafford guests who will want reservations. Laino gives out his e-mail and mobile phone number to his best clients; when the line in front of his desk is too long, they'll send him a message or text with their requests. He's on Twitter, too. Still, he calls his clients "Sir" or "Miss" even when they tell him he doesn't have to.
When any of his hundreds of regular guests arrive, Laino knows their room and dining preferences, their children's names, their work habits, and their personal quirks. "We get chief executives, people who own companies, people who make their own choices," Laino says. "They want us to know what they want. They want some recognition, and they want everything to be easy." One corporate lawyer from New York comes down to the desk every morning at 6:30 to chat. The concierge orders him a triple espresso, which he drinks standing up, then another. When he's done, the concierge summons a taxi. Another guest expects a particular driver to be waiting every morning to take him to London's financial district. Some of this is noted in the computer log Laino and his staff of three maintain; much of it is in their heads. "We are the anchor for the hotel," Laino says. "Concierges tend not to move around a lot. To be effective, you have to lay down roots."
A concierge also has to make it his business to know the people who can help him, or the people who know the people who can help him. "In the beginning you have to rely on your colleagues," says Laino, whose mentor was an old-school concierge called by his last name only. "You don't have any credibility with suppliers. You have to build up your network." Twenty-five years on the job and Laino still goes out to cocktail parties and dinners two nights a week. "A lot of the things we do are easy for us, but only because we've spent a lot of time making sure it's easy for us," he says. "Even so, anyone who tells you they can get anything anytime is bullshitting."
As it turns out, Laino's best friend is among the biggest ticket brokers in London. So he can almost always get tickets on the day of the performance, even for sold-out shows such as Matilda or One Man, Two Guvnors. Laino also knows the maitre d' at the most popular restaurant in London, Dinner by Heston Blumenthal. "It's a naff name, but it's the elBulli of the U.K. Reservations are booked three months in advance," he says. "But if I have a special client, I can ring my mate. I don't abuse my relationships, though. You have to nurture them. You have to be humble. Sometimes the clients put you in a very difficult position. They don't respect your relationships. They just want what they want."
There are some requests Laino will not entertain. He doesn't provide information about escort agencies. Men used to ask for an "extra pillow," and every concierge knew what they wanted. That doesn't happen much anymore, since this particular area is pretty well covered online. "I'm not here to judge, but I'm here to provide a service I'm confident about," says Laino. "I wouldn't give a phone number for an escort agency because who do I know?" He doesn't provide Viagra, either. He refers those requiring it to a doctor.
Years back he politely turned down a proposal from an extremely wealthy Kuwaiti guest. He wanted Laino to marry his daughter so she could flee the country and live in Britain. Then there was the Eastern European woman who asked him to purchase a Savannah cat, which is a particular kind of hybrid. After Laino learned how the strain is bred—a wild cat is put in with domestic cats, mating with one and often killing the others—he told the woman he wasn't comfortable assisting her. "When some people stay in a hotel, they think they can ask you anything," he says. "We're not obliged to provide you with everything you want just because you want it. You should know not to ask."
Also please don't ask him to: arrange a private tour of Westminster Abbey or the Clock Tower (not possible), visit the private men's clubs nearby (also not possible), double-book dinner reservations (bad form), or tell your spouse he or she is misbehaving (also bad form).
There are many unusual requests that Laino happily undertakes. He will, with no notice at all, figure out a way for a guest to do tai chi on horseback in a park in Somerset, two hours outside of London. He will make a phone call to just the right person at Stonehenge so that a client can visit at dawn, before it's open to the public, and walk among the stones, which is otherwise forbidden. He will gamely persuade a tailor on Savile Row to make two suits for a client's Italian greyhound, which she carries in her purse.
He can set up private tours of the crown jewels and of Harry Potter's London. He can arrange afternoon tea at Prince Charles's country home (without the prince or duchess). He will book a visit to the house where Downton Abbey is filmed; he suspects getting on the set itself could be more difficult, but so far no one has asked. And for a special client, Laino will call in a favor so that the client can watch the filming of the television show Top Gear, which has a waiting list of two years.
Once, Laino and his staff had to gift-wrap a Mercedes sports car that one of his regulars bought for his wife. Then they had to push it into the courtyard in the middle of the night so when she walked out of the Carriage House the next morning she would see it. Another romantic client wanted to surprise his wife on their 30th anniversary with a bench and plaque in Berkeley Square, where they had courted. The Westminster City Council wasn't putting any more benches in the square, though. It took Laino six months to persuade them to make an exception.
Among his most challenging assignments was helping a doctor from Hawaii who was on a quest to see all 35 of Vermeer's paintings. The doctor had seen 32 of them when he contacted Laino: The next one on his list was in Buckingham Palace. There are semi-private tours of certain rooms in the palace, but the painting was not in any of those. Laino managed to get the client a private viewing of The Music Lesson. Don't ask him how.
And please, please don't broach the subject of money. Laino won't say a thing on the subject except that sometimes there's no correlation between how hard he works for clients and how they choose to reward him. What's the most he's ever been rewarded? Mum's the word. Only this: "We've all found that the clients who are most comfortable with their wealth are the least demanding."
Before it's here, it's on the Bloomberg Terminal.
LEARN MORE