Meet Carlson School's New Dean, Sri Zaheer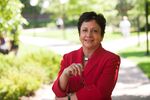 Sri Zaheer was named the new dean of the University of Minnesota's Carlson School of Management, becoming the second women in the B-school's history to assume the top role, the school announced today. Zaheer has served as interim dean of the business school since Alison Davis-Blake left the school last June to become dean of the University of Michigan's Ross School of Business. Zaheer, a 20-year veteran of the Carlson School and an expert on international business, beat out male candidates from London Business School, Dartmouth College's Tuck School of Business, and the University of Iowa's Tippie School of Management, according to the Carlson School's website.
Bloomberg Businessweek's Alison Damast spoke with Zaheer, who starts her new job on Friday pending a vote by the Board of Regents, about her plans for the school:
Will your familiarity with the school give you an edge in your new role as dean?
I think my two decades of experience at the school have put me in a very good position to really hit the ground running. I've got relationships with alumni, faculty, and central administration, so I feel I know the lay of the land very well, and that should help me take the school forward. I've been interim dean for nine months, so I've had some time to think about what I might do when I take on the job.
What are your immediate goals?
I think the biggest short- and medium-term goal is to get people to realize that we are not just a regional school. We have amazing faculty, phenomenal placement rates, and we offer our MBA in four countries and three continents right now. We have students from more than 30 countries in our building alone. I think it is a complete misunderstanding to think of us as a regional or local school, and one of my first priorities will be to change that perception.
How has dwindling state support in the past few years had an impact on the school's finances?
As of last year, state funding for our school was 3.5 percent of our total budget. We've had, for all intents and purposes, to live, breathe, and think like a private school. We have a proposal to charge a tuition surcharge to our undergraduate [business] students, and that plan is close to being finalized. Our student body has grown 20 percent or more in the past four or five years, but we haven't been able to [expand] our tenure-track faculty. Any tuition surcharge we collect from the undergraduate program will be dedicated to hiring new faculty.
What are some of the school's new initiatives that you're excited about?
This January we launched the MBA in Two program, where we target college seniors at the University of Minnesota, encourage them to apply to our program early, and admit them two years later. I think there is a general move, especially among women MBAs, to try to get their higher education experience completed earlier, and we want to encourage women to apply to our program. We also want to reach people who may not have thought about a business career early on in their life and build a pipeline. We'll be rolling the program out nationally and internationally next year.
What do you see as the significance of being selected as the school's second female dean?
I think it means the gender issue is not one we need to talk about any more. It could just as easily have been a man or a woman, and I'm delighted that it came out this way. I think increasingly we've seen so many women presidents and deans of educational institutions all over the country, so I don't think it is newsworthy anymore.
Before it's here, it's on the Bloomberg Terminal.
LEARN MORE