Kraft's Planters Heads for the Peanut Butter Aisle
Kraft's Planters unit finally heads for the peanut butter aisle
by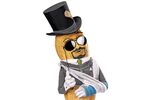 Mr. Peanut has a stunt double. Sporting a goatee, aviator sunglasses, and outsize confidence, "Doug" performs death-defying feats deemed too dangerous for the venerable peanut pitchman. Unfortunately, Doug's exploits always end the same way: with him getting crushed and turned into peanut butter. Marketers at Kraft Foods hope Doug's misadventures will whet consumer appetites for the company's entry into the crowded U.S. peanut butter market. In what may be the most overdue brand extension in history, Kraft is using the 100-year-old Planters name to speed growth of its mature grocery business. Since supermarket shelves are already crowded with brands such as market leader Jif, made by J.M. Smucker, Unilever's Skippy, and ConAgra Foods' Peter Pan, as well as private-label peanut butters, the move carries risks. "They might have a long road ahead to establish themselves," says ConAgra Chief Executive Officer Gary Rodkin. "We'll continue to make it a sticky business for them."
Don't look for choosy mothers or flying boys who never grow old in Planters' marketing. Kraft is targeting adults, who consume two-thirds of the $1.8 billion of peanut butter sold in the U.S. each year, says Triona Schmelter, Planters' senior director of marketing. Kraft was looking for an adult mascot and settled on the fumbling Doug, voiced in Web ads by Kevin Dillon in an homage to the hapless Johnny Drama character he played on HBO's Entourage series. "Peanut butter was a natural extension," Schmelter says, adding that "most other brands focus on moms and kids."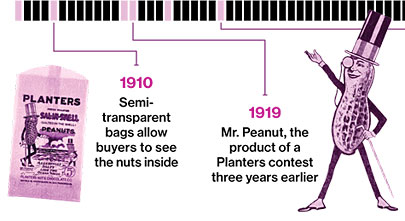 The new spread and Peanut Butter Doug, as he is formally known, are signs that Kraft is getting more aggressive in the grocery business, says Alexia Howard, an analyst at Sanford C. Bernstein. Like many of its rivals, Kraft is struggling to generate growth in its grocery unit and later this year will split that business from its faster-growing snacks unit, creating two separate public companies. While Kraft's North American grocery sales rose nearly 5 percent in 2011, that was partly due to price hikes. The grocery business "had been neglected for years," Howard says. "Kraft was a risk-averse, conventional advertiser. They have shaken that up."
Kraft hadn't invested much in Planters, making it easier for private-label snacks and offerings from faster-growing rival Diamond Foods to feast on its business. From 2005 to 2010, Planters sales at U.S. stores excluding those of Wal-Mart Stores tumbled 12 percent, according to researcher SymphonyIRI Group. Its share of the snack nuts market hit 24 percent in 2011, down from 32 percent in 2006.
Planters' marketing also stumbled. Although suave and monocled, by the late 2000s Mr. Peanut had become just another guy in a foam suit, indistinguishable from a college mascot. He was human-size but never spoke in ads. "He lost who he was from an advertis-ing standpoint," says Caroline Winterton, global brand leader for Planters at Being, a New York-based unit of TBWA Worldwide, which took over the brand's advertising in 2010.
Being's new spots made Mr. Peanut small and peanut-shaped and gave him the voice of Robert Downey Jr. The revised Mr. Peanut helped launch a line of all-natural healthy snacks with the tag line "Naturally Remarkable." Sales ticked up that year.
The Planters marketing team then started mulling new products. The prospect of producing peanut butter had been kicked around for years. But Kraft never wanted to make the investment in production and marketing needed for an ailing Planters to enter such a competitive market. "There was a lot of good debate," says W. Anthony Vernon, president of Kraft's North America business, who will become CEO of the grocery company after the split later this year. "There is no Jif or Skippy peanut brand competing with us" in the traditional nut business. Yet "the teams showed that the Planters brand had recognition with peanut butter users."
The economy also helped. Recession-stricken consumers seeking cheaper protein were on track to send peanut butter sales up 9 percent in 2011. So Kraft took the plunge. It rolled out Planters peanut butter in June at an event with celebrity chef Marcus Samuelsson, who showcased adult-oriented recipes such as peanut butter yogurt and even peanut butter soup.
"You won't see PB and J" in Planters' campaign, Schmelter says. "You'll see ideas for putting it in smoothies, on rice cakes, or on English muffins." After six months on the market last year, Planters ranked sixth. Market share this year has risen from 2011's 1.8 percent to "mid single digits," according to Schmelter, and Kraft has opened a third plant.
While Planters' brand recognition and Peanut Butter Doug's viral antics on the Web and on Facebook helped get the new line off the ground, sustaining growth will be tough, figures Ken Harris, an analyst at researcher Kantar Retail. Pulling buyers from established rivals will require a big marketing push and more spending, he says. So far, Planters hasn't put up the cash to transfer Doug from the Internet to prime-time television spots and won't say if it plans to.
Planters isn't the only company trying to grow in the spread business. Smucker CEO Richard Smucker in February told investors that specialty nut butter generates $260 million a year in sales and is growing faster than the overall peanut butter market. So he plans to introduce two hazelnut spreads next year. Bernstein's Howard says Vernon must mimic that kind of new product sense. Says Howard: "It's all about innovation and marketing."
Before it's here, it's on the Bloomberg Terminal.
LEARN MORE