Hitching a Ride on a StartupBus Bound for Austin: Part II
Alexandra Wolfe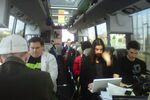 During last night's three-hour drive aboard the StartupBus en route to Baton Rouge, La., we overhear several practice pitches over the speaker system. The founders of Happster—the "psychographic location check-in service" developed on the bus's first leg—attempt to capture the scene for their blog. But the Wi-Fi is down. The whole StartupBus site is down, too. So Caprio encourages everyone to start tweeting. "Use your social media!" he says. "We only have the rest of today and a short leg tomorrow, so get your asses moving!"
Tonight is the last night before the real competition begins between all the startups, and the absence of Wi-Fi has added to the challenge. "It could be because there's a solar flare coming," explains Caprio. "Blame it on the solar flare!" another buspreneur echoes.
At about 8:30 p.m. we roll into Baton Rouge, where five of the 11 StartupBuses park near Highland Street, next to the line of campus bars skirting Louisiana State University. The buses unload and the exhausted entrepreneurs funnel into Varsity Theater, a movie theater/bar where heaps of rice and beans, ham and cheese sandwiches, and steaming gumbo fill a buffet table, and thirsty entrepreneurs dive in for drinks. Soon, a music video begins that replaces the lyric "I Want to Be a Billionaire" with "I Want to Be on the StartupBus."
Buspreneurs mingle into the night, talking about the companies they've just created, such as Curious City, "a curated travel guide for the curious and kinky." In other words, it's an app for people who are into "furries," threesomes, and other "alternative lifestyles." All the while, StartupBus alumni from years past (the program started in 2010) send group e-mails to the teams with the motto:
"Fuck sleep, LAUNCH.
Fuck sleep, MAKE SOME SALES.
Fuck sleep, GET ON THE FRONT PAGE.
Fuck sleep, INCREASE YOUR USER COUNT.
Fuck sleep, WORK HARDER."
(For the first of our StartupBus dispatches, click here.)
Before it's here, it's on the Bloomberg Terminal.
LEARN MORE