Facebook's Payment Whales
By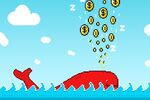 Looking to diversify its revenue beyond ads, Facebook has focused on trying to use its social network to create a payments network. While payments make up 15 percent of its sales, the company's latest regulatory filing shows just 15 million of its 845 million users have made purchases with its payments system. Put another way, that means 1.8 percent of Facebook's users create 15 percent of the company's revenue—and its only non-ad revenue at that.
Facebook Payments lets people use credit cards, PayPal, or cell phone accounts to buy virtual currency, or "Credits." You buy ten Credits for $1 and then spend them on virtual goods in Facebook apps, like a cow or tractor in FarmVille. Facebook launched the system in 2009, and in 2010 made it mandatory for all game apps on the network. The company takes a 30 percent cut of all transactions, which last year added up to $557 million in revenue. (Similarly, Apple takes a 30 percent cut of sales in its App Store.)
The Payments figures shed more light on Facebook's reliance on game app developer Zynga. Facebook had earlier disclosed that 12 percent of its revenue came from the creator of FarmVille, Words With Friends, and other addictive pursuits. As Bloomberg Businessweek reported when Zynga filed to go public in July, the game maker—like Las Vegas casinos—depends on a small segment of high spenders known as "whales" for most of its revenue. We explained how Zynga has tried to cultivate the whales through VIP programs and special discounts.
For now, only game developers like Zynga are required to use Payments, but in Facebook's registration documents, it says it may require other app developers to use the system too. Other virtual goods, such as movie rentals, are already sold on Facebook. Last month, Facebook announced plans to team up with mobile carriers to make it easier for users to buy Credits on their phones, and American Banker reports the social network has registered as a "money transmitter" in at least 15 states, allowing it to transfer money between parties. With a pilot program launched in October, Facebook is experimenting with getting game developers to use its currency outside the social network's walls. The success of these efforts will determine if Payments catches on with more than just Zynga's whales.