Can Harvey Weinstein Help Reelect Sarkozy?
By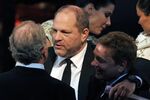 Harvey Weinstein just may have the magic touch.
The movie producer and co-chairman of the Weinstein Co. successfully pushed the French silent film The Artist onto American audiences and helped it swoop up a host of awards, including for best actor, best director, and best picture at this year's Oscars. The Weinstein Co. allowed Netflix to stream the film in the run-up to the Academy Awards and is currently widening the film's American release. (Just this week the movie expanded its screen count more than 80 percent and is now in 1,700 theaters across the U.S.). For his success at bringing French cinema to the American public—the same public that earned the 2009 film Paul Blart: Mall Cop $146 million, mind you—French President Nicolas Sarkozy recently awarded Weinstein the the 2012 Légion d'honneur.
Weinstein doesn't limit his endorsements to Hollywood; he's also a longtime Democratic Party supporter and recently helped fundraise for President Obama's reelection campaign. And now, in an interview with France's Le Figaro newspaper, he has broadened his scope to include international politics by supporting—you guessed it—President Sarkozy's reelection bid.
"Sarkozy has done a hell of a job," he told Le Figaro. "When I see the other candidates in the presidential race, none of them holds a candle to him." Weinstein lauded Sarkozy's backing of France's 2009 Hadopi law, which cracked down on Internet piracy, noting "[w]e will one day have to do him justice for that." (Biopic, anyone?) And he said he was impressed with the president's cultural knowledge. According to Weinstein, Sarkozy is well-versed in the films of Danish filmmaker Carl Dreyer, Ernst Lubitsch, and Italian cinema. "Frankly, I've never met a more cultured president," Weinstein said. "And that's not because he gave me this decoration."
Weinstein is apparently less impressed with Obama's artistic sensibilities. He recently turned down the president's suggestion that he turn an unnamed spy novel into a movie. "I sent him an e-mail back saying he was the most overqualified book scout I've ever had," he told the Times of London.
Whether Weinstein's plug will help Sarkozy remains to be seen; the French president is currently behind rival Socialist candidate Francois Holland in the polls.