Beware of Politicians Linking Tariffs to Job Growth
By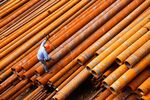 Nothing engenders bipartisan harmony like a bill that targets both China and American jobs. With President Barack Obama about to sign into law a measure that lets Washington impose duties on subsidized goods, the question isn't whether China games the system by supporting key industries—it's the impact those subsidies have on U.S. jobs.
The law will essentially uphold duties on imports of two dozen "undervalued" products from China and Vietnam, including tires, steel, aluminum, paper, and chemicals. While the $4.7 billion value of those imports is a fraction of the roughly $400 billion of goods the U.S. imported from China last year, the measures against them have apparently saved 80,000 U.S. jobs since 2007, according to proponents of the bill. As Senate Finance Committee Chairman Max Baucus said: "China doesn't get a free pass to violate the rules at the expense of American jobs." Frank Vargo of the National Association of Manufacturers, meanwhile, wrote that failing to impose such punitive measures would leave Americans "defenseless against rampant deep pocket Chinese."
Even if that's true, it's worth questioning Washington's assertion that this collection of tariffs has saved thousands of American jobs. The link between trade volume and actual job numbers is an imprecise science at best. Calculating the benefits and collateral damage of duties is even harder. Free-trade advocates, when faced with opponents who treat trade as a zero-sum game, have long made the argument that open borders enlarge the pie for everyone. While currency manipulation and artificially low prices clearly extract a cost from American manufacturers, moves to correct them don't necessarily translate into more jobs.
So what's behind the 80,000 figure that's been held out as an indisputable fact? Those are the jobs that presumably would have evaporated without tariff protection as U.S. companies dumped their American suppliers and contracted with Chinese ones instead. After all, the average consumer doesn't typically make purchase decisions over aluminum, steel, and chemicals. While cost may be a key consideration for corporate buyers, integrated supply chains and other factors play a role as well. And higher costs hardly help the buyer create more jobs at home.
Few industries demonstrate the difficulty of linking tariffs to job creation better than steel. Many have chronicled the carnage in that once-mighty sector, which once boasted some of the country's largest employers. Tariffs imposed by President George W. Bush in 2002 were not only found to be in violation of World Trade Organization policies a year later, they also did little to halt the industry's decline. Moreover, the duties raised costs for U.S. automakers and other steel-consuming companies trying to compete on a global scale.
Even tariffs on a consumer product such as tires don't always translate into more jobs. Goodyear Tire & Rubber, for one, took a largely neutral view on the 35 percent tariff imposed on Chinese consumer tire imports in September 2009. As spokesman Keith Price noted at the time: "Goodyear primarily sells its tires in the regions and markets where they are manufactured." A spokesman for China's Giti Tire, meanwhile, argued the decision would cost more jobs than it created by increasing costs for American consumers.
Another variable in the statistics: Tariffs are rarely a one-way move. Shortly after the Obama administration imposed punitive duties on Chinese tires, Beijing levied its own tariffs on U.S. imports of chicken parts. Was that some tit-for-tat retaliatory measure? It's hard to say. But it's a common instinct when two countries are fighting to get the upper hand. More recently, China imposed duties of as high as 22 percent on U.S.-made SUVs and large cars. China's Ministry of Commerce justified the move as retaliation for unfair subsidies for such players as General Motors and Chrysler. According to the U.S.-China Business Council, the two countries imposed duties on each other 110 times from 1995 to 2010.
One thing economists do agree on: Workers rarely win in a trade war. Then again, nothing cuts through months of gridlock like politicians trying to win favor in an election year. Don't be surprised if politicians in China, which soon faces a leadership transition of its own, succumb to the same temptations.
Before it's here, it's on the Bloomberg Terminal.
LEARN MORE