Taking the Cinnamon Challenge Online
by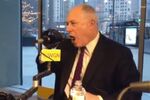 Kids have been daring each other to do stupid stuff since the beginning of time, but only recently have social media come along to enhance—and help share—the experience. A recent craze sweeping teen circles is the Cinnamon Challenge. The goal is to gobble up a teaspoon of cinnamon and swallow it all in 60 seconds. It's not as easy as it sounds. While statistics are not available, it is safe to say that most contenders fail. Success, however, isn't really the point. The fun part comes from capturing it all on a laptop or phone and putting it on YouTube or Facebook, where friends and strangers can watch and revel in your pain. YouTube features some 30,000 videos of teens and 20-somethings embarking on the challenge, usually only to end up choking, coughing, gasping, and spitting. Many of these videos have been viewed millions of times, and some are helpfully labeled: WARNING PUKE.
Where content is free, an entrepreneur is usually trying to make money off of it, and that person has emerged in the form of Scott Rosenbaum, 32, who is seeking to monetize the orange "dragon breath," as he calls it, often emitted by challengers. Rosenbaum is the proprietor of Cinnamonchallenge.com. He "randomly bought" the domain name back in 2007 after hearing of the challenge, he says, which was around even when his parents were young. For years, the domain name wasn't his priority. His big business is RentAFriend.com, a site people can use to hire a platonic friend to go to the movies or the gym with. Rosenbaum charges friend-seekers $24.95, which entitles members to scan lists of 417,000 people who have signed up to be friends-for-hire.
Then, about a month and a half ago, Rosenbaum noticed that the Cinnamon Challenge was on the upswing, and he put up his site. While the production values are meager, the point is pretty clear: This is the place to find curated videos, submitted by participants or chosen by Rosenbaum. Visitors to the site—he says there are a couple of thousand a day—are invited to comment on or rate the videos. In one, called Hot Girl Cinnamon Challenge Freakout, a pleasant looking young woman gags and gasps that she can't breathe as a young man laughs. Above the screen was an ad for BlackBerry, placed by Google's AdSense. Another recent advertisement was for JetBlue. Rosenbaum says that after six weeks or so, the advertising is paying the site's hosting costs and that he hopes to make money on the site.
Rosenbaum doesn't actually approve of the whole Cinnamon Challenge thing. He tried it himself and says it was "horrible." A prominent disclaimer on the site reads:
DO NOT ATTEMPT THE CINNAMON CHALLENGE WITHOUT TALKING WITH A DOCTOR. OBVIOUSLY THEY ARE GOING TO TELL YOU NOT TO DO IT. THE CINNAMON CHALLENGE CAN BE DANGEROUS AND SHOULDN'T BE TAKEN LIGHTLY. YOU NEVER WANT TO PURPOSELY OR MISTAKENLY INHALE ANY SUBSTANCES SUCH AS CINNAMON.
So why the site?  "I buy domains," he says. "I figure it doesn't hurt."
Not everyone is so sure. School officials in Michigan and Pennsylvania have in recent weeks warned about the dangers of the Cinnamon Challenge, and there have been reports of hospital visits. There are more uplifting stories as well. In early February, Illinois Governor Pat Quinn (above) took the Cinnamon Challenge at the behest of a talk show host and was rewarded with the Chicago Tribune headline "No Dragon Breath as Quinn Takes Challenge" and, of course, a star turn on YouTube. "He's a tough guy," said Brooke Anderson, the governor's spokeswoman, rather ruefully. (The governor actually used water to help the cinnamon go down, officially a no-no.)
Whether all this is good for McCormick, the leading spice company in the U.S., isn't so clear. In some videos, including "Hot Girl," McCormick's cinnamon makes the kind of appearance that in other circumstances would be worth thousands in free advertising. Here, maybe not. "This is certainly not the intended use of cinnamon," wrote Beth Pagano-Dillon, an outside spokeswoman for the company in an e-mail. One thing is for sure: As McCormick says on its own website, "The comforting aroma and flavor of cinnamon will inspire more than just holiday baking."
Before it's here, it's on the Bloomberg Terminal.
LEARN MORE