Goldman's Dubious Deals: Is This 'God's Work'?
by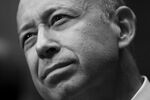 In January 2011, six months after getting slapped by the Securities and Exchange Commission with a $550 million fine for misleading clients on securities that were built to fail, Goldman Sachs released a new code of business standards. The move was meant to mollify concerns the bank had morphed into what Rolling Stone had dubbed a "vampire squid," willing to feed on its own clients to make more money for itself. Under the heading "The Goldman Sachs Business Principles," the first line of the new code, printed in boldface type, made clear the primacy of the issue it sought to address: "Our clients' interests always come first."
Those words appear slightly dubious today, in light of new details about the inner workings of two separate deals involving Goldman. Though its profits have been tamed, the squid seems as rapacious as ever.
The biggest deal Goldman worked on last year was as an adviser to pipeline company El Paso on its $21 billion sale to Houston-based Kinder Morgan. Goldman owns a roughly 20 percent stake in Kinder Morgan, worth about $4 billion. You'd think that would count as a conflict of interest, but apparently El Paso executives were OK with it. What El Paso didn't know, however, was that Goldman's lead banker advising them, Steve Daniel, owned $340,000 in Kinder Morgan stock. So not only did Goldman have an interest in El Paso (its client) getting lowballed, so did its top guy on the deal.
"With this case you see a complete breakdown in the sort of normative behavior in the M&A market," says William D. Cohan, a Bloomberg View contributor and the author of the 2011 book Money & Power: How Goldman Sachs Came to Rule the World. Last week, in a lawsuit filed by El Paso shareholders seeking to stop the deal, a Delaware business court judge issued a blistering opinion that, while allowing the deal to go ahead, questioned whether El Paso shareholders got the best price. For its advisory services on the deal, Goldman made $20 million. "This whole thing reeks," says Cohan.
New details have also emerged about Goldman's role in helping Greece hide its debt so it could qualify for membership in the European Union. In a Bloomberg News story out this week, Greek officials talk about how they didn't truly understand the complex swaps contracts they were buying from Goldman bankers from 2001 to 2005, and that each time Goldman restructured the deal, things got worse for Greece.
The story reads like a cautionary tale of a homeowner who keeps returning to the same contractor to repair the damage done by the previous fix-it job. At one point, Goldman prohibited Greece's debt manager, Christoforos Sardelis, from seeking outside price quotes on the complicated derivatives Goldman was selling to Greece. It's difficult to say whether Europe would be in better shape today if Greece had come clean about its debts back in 2001, but helping Greece dupe regulators by disguising billions of dollars' worth of sovereign debt hardly qualifies as "doing God's work," as Goldman Chief Executive Officer Lloyd Blankfein told a reporter in 2009.
Yet Goldman's sullied reputation doesn't appear to be negatively impacting its business. In fact, Goldman is outpacing its Wall Street competition recently in key areas of business. In 2011, Goldman was the top adviser for both global M&A and equity IPOs. A Bloomberg survey of traders, investors, and analysts last May showed that while 54 percent of respondents had an unfavorable opinion of Goldman, 78 percent believed that allegations it duped clients and misled Congress would have no material effect on its business. That's certainly evidence that potential Goldman clients are aware of the risks and willing to take them anyway. There's a reason why firms keep doing business with Goldman, and it's not because of its sterling ethical reputation.
"This gets back to the advantages that Goldman has had for years over its competition," says Cohan. "They attract the best and brightest people. They consistently have the best risk-taking culture on Wall Street. No one understands the markets as well as Goldman."
In short, if you want the smartest bankers, there's a price to pay.
Before it's here, it's on the Bloomberg Terminal.
LEARN MORE