Did Intrade Predict Super Tuesday?
By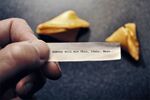 Intrade, the online prediction market where people trade and make money on the outcome of political races, has been hailed as an oracle by pundits and politicians alike. The website accurately predicted the outcome of both the 2004 and 2008 presidential elections. Even though the Intraders haven't been as spot on during this wild primary season as they were in the past, they were still ahead of political trends on more than one occasion: Intraders anticipated Newt Gingrich's rise in South Carolina before the public and held fast to the prediction that Mitt Romney was more than 70 percent likely to win the primary in Michigan, even as Rick Santorum was shooting up in most polls.
So did Intrade predict the results of Super Tuesday? The answer is yes, but not because of any supernatural oracular power: So did just about everyone else.
Yesterday at 11:30 a.m., Intrade indicated that Newt Gingrich had a 97.6 percent chance of winning Georgia, which is what just about every poll anticipated. Intrade was going for Romney in Virginia and Vermont and for Santorum in Oklahoma. All those predictions bore out, but no one was expecting anything different. And Intraders wrongly thought Santorum would place second over Ron Paul in Vermont.
The only state that had a real contest was Ohio. At 11:30 a.m. yesterday, Intraders were betting that Romney had an 83 percent chance of winning Ohio. At the same time, CNN was saying the two were tied (Romney won, but it was a close race).
Before it's here, it's on the Bloomberg Terminal.
LEARN MORE