China Faces a Tough Year in Exports
by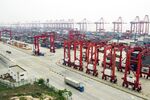 Speaking before Chinese and foreign reporters on the sidelines of the ongoing National People's Congress on March 7, Chen Deming, China's trade minister, stressed the challenges ahead. Beset by global economic troubles, rising domestic labor costs, and tightening at home, China's growth in exports may reach 7 percent this year, with imports up slightly more, year on year, compared with the 20.3 percent and 24.9 percent jumps in 2011. China will likely achieve this year's overall trade growth target, said Chen, but only with "arduous efforts."
The euro zone crisis weighs heavily on Chinese trade policy makers. Since Europe is the mainland's largest trading partner and accounts for 18 percent of all Chinese exports, according to Shenyin & Wanguo Securities, problems there will continue to constrain China's sales abroad. Chen said today that exports rose about 7 percent in January and February combined, over the previous year. That figure suggests February exports, due to be announced on March 10, will come in lower than the 32 percent gain shown in an earlier Bloomberg survey.
According to Nomura Holdings, Chen's comments suggest instead that exports increased only 18.7 percent in February. Weak global demand, as well as the weeklong Chinese New Year holiday, brought a 0.5 percent fall in exports and a 15.3 percent drop in imports in January. That was the first time in over two years that China has seen declines. "The EU is the biggest export market for China, so this is a very big challenge," says Janet Zhang, macroeconomist at GK Dragonomics in Beijing. "Continuing rising labor costs and raw materials prices are increasing the costs of export manufacturers, and some are going bankrupt," she says.
Given the grim outlook abroad and at home, Trade Minister Chen stressed the need for supportive policies. The Ministry of Commerce issued a statement earlier Wednesday saying new policies supporting trade are in the offing, while export tax rebates will remain "stable." New measures are likely to encourage financial institutions to support struggling small and medium enterprises, says Zhang. Any new policies "would be incentives for foreign trade instead of restrictive measures," Chen said today in Beijing.
China, however, is unlikely to take any steps to appease members of U.S. Congress who are riled over the $272 billion trade deficit the U.S. has with China. Chen strongly suggested China will continue with its go-slow approach on currency appreciation, as the yuan has been weakening against the dollar (now near 6.31 to 1, down about 0.4 percent this year), aiding Chinese exporters. That compares with about a 5 percent increase last year, according to Zhang.
Chen lashed out, too, at a U.S. trade bill aimed at offsetting subsidies to industry in China and other countries, passed earlier this week by the House and Senate. It is inconsistent with U.S. law, and "it's not in line with WTO rules" either, Chen said, raising the possibility China could challenge the bill at the international trade body if President Barack Obama ends up signing it. "The U.S. has been pointing fingers," Chen said.
Before it's here, it's on the Bloomberg Terminal.
LEARN MORE