Joining the (Cash) Mob to Help Main Street
By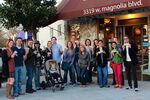 Shopping at an independent retailer instead of a big-box store like Target or Wal-Mart is better for your community because more of your money stays local. That's the message groups like the American Independent Business Alliance, the Business Alliance for Local Living Economies, and the Institute for Local Self-Reliance have been trumpeting for years as they've pushed to strengthen local economies.
Now a handful of individuals have seized that message and borrowed from flash mobs to create what they call "cash mobs." Using Facebook and Twitter, they're organizing groups of strangers who descend on beloved independent retailers—bookstores, bakeries, wine shops—and spend at least $20 each. Participants usually meet beforehand and follow the organizer to the shop. The organizer alerts the store owner in advance and might wear a funny hat to stand out in the crowd. Drinks often follow at a neighborhood bar. Since the summer, nearly 140 of these cash mobs have jammed store aisles from Albuquerque to Sydney.
In early February, 65 mobbers spent just under $1,500 in just over an hour at Big Fun Toy Store in Cleveland. "For those of us who have struggled for years to stay afloat because of the big boxes, the Internet, and all the other things that have happened, we keep trying, trying, and sometimes it's like climbing a greased pole," says Steve Presser, who started the shop 21 years ago. Cash mobs "have made the public engaged about helping people out."
Buoyed by their initial success, one organizer in Cleveland, Andrew Samtoy, declared March 24 National Cash Mob Day, though its footprint stretches internationally. The 32-year-old expects 175 mobs to shop at independent retailers across the globe, with 50 to 100 people per mob. What's motivating him to volunteer his time? "If you have an Applebee's in New York, it's going to be the same as the Applebee's in San Diego," says Samtoy. "That sort of homogenization of communities across the country isn't adding anything to those communities or making them special."
Efforts to encourage more local spending aren't limited to cash mobs, of course. "There are so many similar initiatives to cash mobs that have sprung up, whether it's think-local-first marketing campaigns or loyalty cards or coupon books or community-supported enterprises," says Michelle Long, executive director of the Business Alliance for Local Living Economies in Bellingham, Wash. In the past decade, there's been "a massive explosion, a trend toward more of us wanting to build our economies from the inside out."
Cash mobs aren't businesses like Groupon; organizers don't get a cut of sales; shoppers don't get discounts (obviously a business owner can do whatever she wants in terms of deals when a cash mob hits her store). And organizers aren't shopkeepers. Samtoy is an attorney who does class-action lawsuits. Chris Smith, who organized the first cash mob last August in Buffalo, N.Y., is a systems engineer for Oracle. "This seems to me to be the appropriate response to a lot of the national economic problems we've been having," says Smith, 37. "It's a reminder that instead of always throwing money over the fence to big corporations, we should invest in small businesses that have invested in our communities."
Samtoy notes cash mobs won't save struggling businesses. "If a business relies on cash mobs to stay open, then they have much bigger problems than a cash mob should be addressing." He'll be leading another mob tonight in Cleveland, wearing a funny hat, a "brown Viking helmet-type thing with horns."
Before it's here, it's on the Bloomberg Terminal.
LEARN MORE