How IBM Wooed Wall Street
by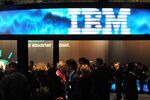 IBM has more than a dozen "Smarter Planet" television ads—most of which document some sort of life-altering technological marvel produced by Big Blue. Sometimes IBM fights the scourge of counterfeit medicine. Other times it tackles global warming. The best ad, though, may be the one in which IBM discloses that improvements to the Washington (D.C.) sewer system were "built off analytics that predict traffic in Singapore and helped prepare for flooding emergencies in Rio." Beat that, Facebook.
Outside of Apple, it's hard to think of another technology company that celebrates itself with as much skill as IBM. Just a few years ago, IBM peddled PCs, disk drives, and other basic building blocks of computing. Now it's being sold as a kind of technology visionary able to reshape cities in a single bound through analytics software and the brainiest consultants on the planet. On some level the Smarter Planet pitch, first unveiled in November 2008, appears to resonate with the public. IBM has an ethos that speaks to the future, while rivals like Hewlett-Packard, Dell, and Oracle often feel like they're doing the same old, same old.
IBM's share price—unremarkable for much of the last decade—has surged, almost to the day, since the Smarter Planet shtick began. It hit an all-time high of $200 on Monday, March 5, up from $70 in late 2008.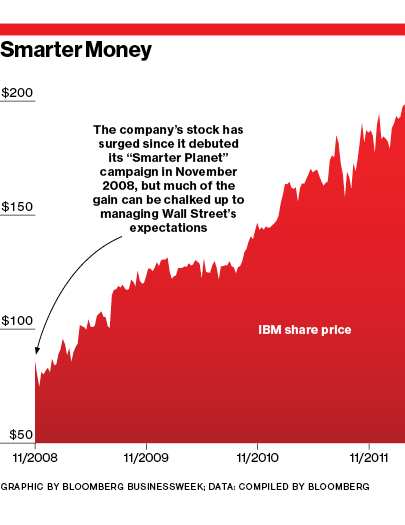 If there's a downside to IBM's marketing campaign, it's that many people don't quite get what the company does. The "PC maker" has transformed into an amorphous think tank. As a friend of mine who runs a prominent mutual fund recently asked, "What do they actually sell?"
The answer to that is less sexy than IBM might have you believe. The company, with annual revenue of $107 billion, still makes tens of billions of dollars per year selling traditional data-center hardware and software. In fact, Toni Sacconaghi, an analyst at Sanford C. Bernstein & Co., estimates that about 20 percent of IBM's revenue and 40 percent of its profits can be traced to hardware, software, services, and financing on mainframes, the grizzled veterans of corporate computing. Such machines are not analytics dynamos but rather workhorses crunching away at the most mundane tasks. The bulk of the rest of IBM's business revolves around high-profit software and services, in which the company deploys tens of thousands of people to customers' sites for what can be very lengthy technology installation and consulting engagements.
In recent years the mix of IBM's revenue has tended to move more toward these software and services businesses and away from the old-line hardware products. Again, IBM has done a nice job selling this story and painting itself as a more sophisticated animal than, say, hardware-heavy HP.
But, for all the effort IBM has put into portraying itself as the grand pooh-bah of "smart" technology, its success on Wall Street comes down to something much more pragmatic, according to Sacconaghi. "I think what IBM has been able to do is articulate and deliver against an investor value proposition that is really resonating," he says. "And that is 'we will not miss earnings; we will tell you how much cash we will generate in the next four to five years, and we will tell you where it's going.' There is no other company really articulating a value proposition like that."
Sacconaghi attributes IBM's share price surge to confidence the company built up with investors over about a six-year period of delivering steady financial results. Investors think of it "less as a technology stock and more like a high return of cash stock," Sacconaghi says. Unlike an Apple, IBM's revenue growth rate has not surged, nor has its financial profile dramatically altered. In short, IBM has wooed investors not with its technological razzle-dazzle but rather its steady hand. "I do think things like Watson and Smarter Planet are kind of aspirational things that investors kind of like," Sacconaghi says. "But the real resonating factors among investors are the discipline of the financial model and the ability to deliver against it."
IBM's major rivals must look at the company with some sense of jealousy. It's a rare feat for a company that large and that old to rewrite its image and reignite interest among once cool investors. Being reliable may not sound as good in an ad as retooling a sewage system through software, but it sure helps the stock price.
Before it's here, it's on the Bloomberg Terminal.
LEARN MORE