Harvard Alumni Urged to Help the U.S. Compete
By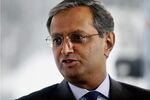 When a business school solicits alumni, it's usually to ask for donations. Last night, though, the school hit them up for something they may find harder to give: a commitment to use whatever influence they have to get their companies to invest in the local workforce, raise U.S. median wages, and support local suppliers.
At the World Economic Forum in Davos in January, Harvard Business School revealed the results of a survey that showed 71 percent of its alumni believe the U.S. will decline in competitiveness over the next three years.
Of the 10,000 alums who responded, 1,700 said they were directly involved over the past year in choosing whether to keep a business activity in the U.S.—and two out of three times in those situations, the U.S. lost out.
HBS made an appeal to change that trajectory at an alumni event Monday night in New York City, where it has its largest concentration of graduates. More than 700 alums listened to faculty lay out suggested business practices based on recent academic research. Among them: Don't tie managers and executives' compensation so strongly to market performance and invest in local community college apprenticeship programs, then commit to hiring a number of those graduates.
The event at Lincoln Center included a panel of executives such as Citigroup Chief Executive Vikram Pandit, Stanley Litow, IBM's vice president for corporate affairs, and Robert Steel, New York City's deputy mayor for economic development, to speak about how those theories may unfold in the actual world. (No panel member suggested they couldn't.)
The message resonated with such attendees as 2010 alumna Jenny Liu, who said advocating for local workforce mentoring programs was an easy takeaway to bring back to her employer, Crane & Co., a paper manufacturing company where she works in business development.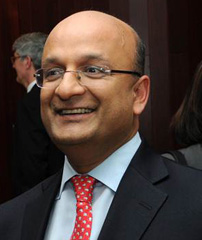 Which is more or less what the organizers were hoping for. "Our job at the Harvard Business School is to see if we can't mobilize our alumni," said professor Michael Porter, who has helped lead the school's U.S. Competitiveness research project, during an interview at Davos.
At the New York City event, HBS Dean Nitin Nohria urged HBS alumni to look beyond their companies' narrow self-interest. "I ask each of you to explore what you might do, how you might act … not just to advance the competitiveness of your firms, but the competitiveness of the nation."