business
Alone in a Crowd: How Crowdfunding Could Strand Startups
By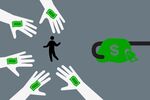 The startup world is getting excited about crowdfunding, the prospect of raising money through lots of small investments from supporters online. While creative entrepreneurs have been getting donations for years on Kickstarter, a White House-backed plan to loosen securities laws and let companies sell equity to crowdfunding investors passed overwhelmingly in the House of Representatives last year. The Senate banking committee is looking at the proposal on Tuesday.
Such supporters of crowdfunding as Nick Tommarello say it will give businesses—from neighborhood restaurants to high-growth tech companies—a fresh source of capital. Tommarello is co-founder of Wefunder, a site he hopes to turn into a crowdfunding platform in the event the law is changed. "If this happens, what we can do is fill that funding gap in between angel [investors] and first round venture capital," he says.
Not so fast. Companies that want to raise big chunks of money later on will run into trouble if they already have lots of investors who own tiny pieces of equity, says Catherine Mott, chair of the Angel Capital Association. She supports the idea for businesses that don't plan to raise further money, such as a retail store trying to expand or even a social media startup that needs a relatively small amount to launch a product.
For startups in life sciences, clean technology, or manufacturing, however, the presence of scores of small investors who put in the first $100,000 could spook the angels and venture capitalists that those businesses will need to raise millions of dollars later on. Mott, who sits on a Securities and Exchange Commission advisory council for small businesses, warns that venture capitalists "will just move on to the next deal," rather than wade into the complications entailed by crowdfunding, such as getting small investors to approve a new round of funding. "It can have a very perverse impact on high-growth companies," says Mott.
Involvement by crowdfunding investors wouldn't be a deal-breaker for Menlo Ventures, so long as they don't have voting control, says Mark Siegel a managing director at the Silicon Valley venture firm. "I would not want to have to round up votes from lots of individual investors to approve a new financing, or an acquisition, or a change in board structure, as examples," he wrote in an e-mail. "There would have to be voting provisions in effect that would allow decisions to be made by the board and major shareholders." Siegel also questions whether individual investors would tolerate the same risks as venture capitalists looking for "home run" returns of at least 10 times on their investments.
Chicago angel investor Bob Okabe told me he doubts most venture firms will bother. "Do the VCs really want to mess with 75 crowdfunding investors? They have enough heartburn when there's 10 angels on the table. That to me is the big risk for entrepreneurs." Says Okabe: "You've just hung a dead, leaden anchor on the end of your boat."
Before it's here, it's on the Bloomberg Terminal.
LEARN MORE