Wind-Power Market Blows Cold
by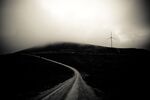 The climate is getting worse for wind-power companies, which are finding it increasingly difficult to attract venture backers.
Investment in U.S. turbine farms and wind-energy businesses tumbled 38 percent last year to $9.7 billion, according to data from Bloomberg New Energy Finance. Venture capitalists have practically left the sector altogether. They invested only $177.6 million in wind startups last year, down 71 percent from the year before, BNEF found.
Wind power is bucking a broader trend for clean energy, which is experiencing a surge of investment. Venture backers pumped $4.29 billion into the green tech industry in 2011, up 13 percent from the previous year, according to the National Venture Capital Association. With wind, it's harder for early investors to afford the large outlay of cash needed to get a business off the ground, says Jason Matlof, a partner at Battery Ventures in Menlo Park, Calif.
"We can't compete as venture investors in capitalizing energy companies," Matlof says.
There's also a glut of turbine production—fueled by investments over the last half-decade in the U.S., Europe, and Asia—and not enough demand. Global purchases of turbines will fall 14 percent this year from 2010 and won't surpass 2011 levels for two years, BNEF estimates.
That's hurting the biggest makers of turbines, the giant fan-like devices that turn kinetic energy from gusts of wind into mechanical energy. Vestas Wind Systems (VWS:DC) in the Netherlands and India's Suzlon Energy (SUEL:IN) reported wider-than-anticipated losses last month, and China's Sinovel Wind Group (601558:CH) estimates that its 2011 profit fell by more than half from 2010. These companies have seen their stocks plunge in the past year.
With a market that's battering publicly traded companies, there's little room for startups to find opportunities, says Matlof, whose firm has invested in one early stage wind company, Modular Wind Energy.
"Historically, there's been a handful of wind turbine companies that own all the development, all the technology, and all the integration," he says.
Wind companies in the U.S. also face the expiration of a tax credit at the end of this year, adding to their risk. The industry is seeking a four-year extension to the credit, which helps lower the cost of wind power to make it more competitive with traditional sources of energy.
Venture capitalists for the most part are steering their investments toward technologies that make existing energy sources more efficient and alternative-energy sources easier to deploy, Matlof says.
As far as investing in production itself, "that is not a winning formula, going forward," he says.
Before it's here, it's on the Bloomberg Terminal.
LEARN MORE