Why Can't the TSA Be as Cool as the TSA's 'Blogger Bob?'
By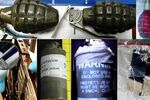 The Transportation Security Administration hasn't been having much fun recently. The agency responsible for bag checks and making you wait in looooong airport lines is under attack by its Congressional overseers. Even the House member who helped conceive of the TSA after Sept. 11 says a $7.8 billion budget and more than 50,000 airport screeners is excessive.
That hasn't stopped one employee of the agency from having a good time.
Most people don't turn to government websites for entertainment—and for good reason. But the TSA Blog that Bob Burns writes defies all stereotypes. In one recent posting, he describes a live M18 smoke grenade found in a passenger's bag in the Seattle Airport: "Have I ever mentioned that grenades are prohibited?"
Day after day, Blogger Bob, as his colleagues and readers call him, fills the blog with stories of the stunts passengers pull to sneak dangerous items onto planes. Without sounding wonky or scolding, Bob manages to tout his agency and poke fun at the public in a way that makes you almost sympathize with the TSA. From one of his recent roundups of TSA happenings:
Somebody Doesn't Read the TSA Week in Review: Just like the incident I wrote about last week, another passenger attempted to conceal marijuana in a hollowed out peanut butter jar. Just like last week, we found it.
How to Complicate Things: A passenger at Houston (IAH) told an officer: "If I miss my flight, I will come back and strangle you." The passenger missed their flight. Another passenger, while waiting in line to board his flight at Palm Beach (PBI), told fellow passengers: "Good luck getting on this plane because it's going down." It didn't go down, but it was delayed for 52 minutes affecting 89 passengers.
If at First You Don't Succeed … After a passenger attempted to check an unloaded 9mm in her checked baggage at Norfolk (ORF), she was informed by the airline that she needed a hard-sided lockable case in order to check it properly. (See details on properly checking firearms.) Instead of heeding their advice or giving the firearm to her father as she said she would, the passenger attempted to conceal the firearm with other items in her purse. We found it.
"I call it the corny dad approach. I'm basically the Bob Saget of blogging," the 41-year-old tells Bloomberg Businessweek. "This isn't really the most exciting subject, so I thought I should inject some personality into it." Three years removed from working the security lines himself—he used to train TSA officers at the Cincinnati airport—Blogger Bob has clearly gained some perspective on the experience.
Burns started working on the blog in 2008 and knows a thing or two about search-engine optimization. "You may have heard about Lady Gaga recently being permitted to take handcuffs through a checkpoint at LAX," he began one post in September, before launching into the TSA's handcuff policy.
There is a serious side to the job: defending the TSA by busting inaccurate stories that spread around the Web. When a woman complained that the TSA took her baby from her during an inspection, for example, Bob posted video showing the kid was in the stroller right beside her. He also maintains a weekly spreadsheet of firearms found in carry-on luggage.
One area Bob doesn't wade into is politics, particularly the drubbing TSA is taking in Congress. "I don't go into things of that nature," he says.
Before it's here, it's on the Bloomberg Terminal.
LEARN MORE