Mitt Romney Picks a Wildcatter to Guide Energy Policy
By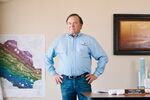 Last week, as gas prices across the country continued to rise, Mitt Romney announced he was putting together an energy policy advisory group and naming as its head a man who would stand to benefit from the likely advice he would give: Harold Hamm, the Oklahoman who started his first oil services company out of a Ford pickup in 1967 and now controls one of the top companies drilling in North Dakota's oil-rich Bakken shale formation.
Hamm is the chairman and chief executive officer of Continental Resources, the largest leaseholder in the Bakken. He began drilling there almost two decades ago and stuck with it when competitors gave up, as Bloomberg Businessweek reported in this profile of the wildcatter back in January. "In America, people lost the will to drill for oil," he told reporter Bryan Gruley. "I'm a little more hardheaded than other people."
Hamm actually has the kind of pedigree Rick Santorum has been touting: He worked pumping gas for high school credit and never got a college degree, though he did take classes in geology and mineralogy.
Expect to see Hamm railing against President Barack Obama's call to cut back on tax breaks for oil companies. As Gruley tells it, the billionaire gets riled up at the mention of the subject. In July he was at the White House for an event honoring people who have promised to give most of their wealth to charity. "Hamm says he told Obama there's plenty of oil to be found in the U.S.," Gruley wrote. "He felt the President blew him off. 'It was like, if you're in the oil-and-gas industry, you don't matter,' he says."
Before it's here, it's on the Bloomberg Terminal.
LEARN MORE