ForumWatch: MBAs and the Job Market
Francesca Di Meglio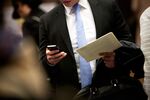 One look at the Bloomberg Businessweek Business Schools Forum, and one realizes that certain discussions can last for years. In fact, many of the threads begun by admissions consultants and other admissions experts include thousands of messages that date back as much as a decade and continue through the present day.
Sometimes, participants with something to add to the conversation revive discussions that have been dormant for quite some time. For instance, someone recently shared an opinion on the relevancy of the MBA in a discussion that dates back to September 2007. Originally about the release of From Higher Aims to Hired Hands, a book about the need for business school reform written by Harvard Business School professor Rakesh Khurana, the thread features a lively discussion (36 messages to date) about the current state of management education.
The most recent post, dated Jan. 22, comes from MWhartonMBA, who discusses unemployment despite earning the MBA. What is interesting is the fact that all those who continued this conversation over the years have brought with them experiences unique to the year in which they wrote. The thread serves almost as a time capsule, and it is a great barometer for judging the relevancy of business schools from year to year. Much of what has been written relates to the state of the economy at that moment.
You can keep up the conversation by sharing your thoughts at the "Book Critical of Business School" discussion thread.
Editor's Note: This blog post is part of a series about discussions taking place on the Bloomberg Businessweek Business Schools Forum, where prospective MBA program applicants, current students, and recent alumni trade admissions tips, job-hunting advice, and the occasional barbed comment. We invite you to join these discussions or start one of your own.