Confirming Wall Street's Misgivings About Newspapers
by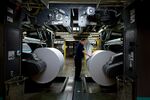 Those who obsess over the fate of newspapers have something new to validate their worst fears. The Pew Research Center's Project for Excellence in Journalism released the results today of a survey of 38 newspaper executives around the country, who were asked about the industry's halting transition from print to digital advertising sales. The most unsettling statistic: Pew reports that, on average, for every $1 these newspapers gained in digital ad revenue, they lost $7 on the print side.
The report made the front pages of such journalism websites as Poynter.org, and will be read closely by people who toil in newsrooms and fear for their livelihoods. But it's not likely to affect stock prices of their publicly traded employers. "I don't know if this is a big surprise," says veteran industry analyst John Morton. "It shouldn't be. I've written a lot about the decline of newspaper advertising and what's causing it. The 7-1 ratio sounds about right to me."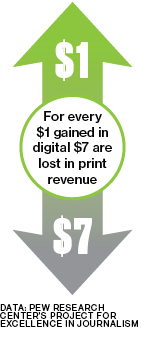 Indeed, investors have already spoken. In the past twelve months, New York Times' stock price has fallen 38 percent, while shares of McClatchy have declined 36 percent. Washington Post, once thought to be protected from the industry's vagaries by its Kaplan educational division, has suffered a 9 percent drop in its stock price.
Morton doesn't expect growth in digital revenue to offset declining print sales anytime soon. "I suspect the newspaper industry is going to be challenged in the next few years as it tries to figure out how to pull money out of the Internet," he says. "The industry comes out of a culture where it was always the dominant advertising medium in all its markets. Now it is trying to compete in an arena where there is a lot of competition."
The analyst's pessimism is probably warranted. The papers participating in the Pew study said the number of sales representatives focusing on print sales outnumbered their digital counterparts by a 3-1 ratio. That may seem hard to believe. But not when you take into account that, according to the Pew survey, "print ad revenue, which is shrinking, still makes up the bulk of the overall revenue (on average 92% in our study's sample)."
In the long run, the industry can't afford to devote the majority of its resources to a dying medium. An unidentified executive defends this approach in the Pew survey: "We have all these [new] products we are working on that we believe are going to deliver results that are part of our sustainability. But we need to eat today."
That's one way of looking at it. Another executive is more grave: "There is no doubt we're going out of business now."
Before it's here, it's on the Bloomberg Terminal.
LEARN MORE