BlackRock's Money-Market Stance Shows the Smart Way to Lobby
By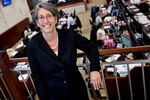 As some money-market fund executives see it, reforms proposed by regulators would "kill" and "destroy" their $2.6 trillion industry. According to BlackRock, the seventh-largest manager in the field, those doomsday scenarios are overstated. "We think there will be some shrinkage, but we don't think it would eliminate the product," Barbara Novick, co-founder and vice chairman of the New York-based firm, tells Bloomberg News.
Regardless of who's right, saying your world will end is rarely an effective strategy. "People on Wall Street tend to exaggerate; they're not pros in the advocacy business," says James Thurber, a professor of government at American University. "You should try never to exaggerate because people won't take you seriously. By saying it will kill this industry, you won't get very far."
That message doesn't seem to have reached parts of Wall Street, which has been vehemently protesting many aspects of financial reform. Pick any one of the more than 400 regulations in Dodd-Frank, and chances are there's a life-and-death objection to it. The finance industry spent more than $472 million in lobbying last year, sent thousands of comment letters, and had more than a thousand meetings with regulators writing reforms. The Volcker Rule, which limits how banks can place bets for their own accounts, is a case in point. Critics say it will crush liquidity and cost investors as much as $315 billion. Some economists and fund managers are saying that's hyperbole; Fed Governor Daniel Tarullo told Congress in January that the Volcker Rule might affect liquidity "on the margins."
In the case of money-market funds, which are facing reforms after the 2008 collapse of the $62.5 billion Reserve Primary Fund caused a run on the industry, the key issue is that regulators want funds' daily share prices to fluctuate—reflecting the current market price of the securities they hold—rather than remain fixed at $1 as they do now. The largest money fund managers say investors will abandon the funds if they can't be sure of putting money in and taking it out at a constant price.
BlackRock is taking a more conciliatory approach, recommending tweaks to the SEC proposal, for example saying the market pricing should apply only to securities that are more than 60 days from maturing. "We're pragmatists," Novick says. "The regulators are going down this path. Do you want to fight them, or try to work for the best possible solution?" That's the approach Thurber suggests. He says Wall Street does have legitimate concerns about Dodd-Frank, and they'd be best served by being a calm, credible voice at the table.
Before it's here, it's on the Bloomberg Terminal.
LEARN MORE