London Calling: Why the Libor Affair Matters to You
By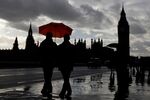 Stories about the London Interbank Offered Rate (Libor) typically don't set one's heart aflutter. This one should: Investigators in the U.S. Canada, Japan, the U.K., and the European Union are trying to figure out if a handful of brokers and traders manipulated a key benchmark rate that affects the price of $350 trillion worth of securities and loans around the world. That may include your car loan or even your home mortgage. No banks or individuals have been charged with any wrongdoing. Yet even if the case fizzles out, there is something weird about an internationally recognized benchmark interest rate set by a small group of financial professionals with little transparency or regulatory oversight.
Libor is the rough equivalent of the U. S. federal funds rate—that is, the interest rate that banks charge each other. These rates, set by a 16-bank panel and calculated and published daily by Thomson Reuters on behalf of the British Bankers Association, cover a variety of currencies and time durations, from overnight to 12 months. In theory, any given Libor rate is the average bank borrowing cost for unsecured funds, based on data supplied by participating lenders and representing market conditions. Think of it as a daily temperature reading of the money markets.
A variety of U.S. mortgage products are directly influenced by these market rates. The typical American adjustable rate mortgage is indexed to the six-month Libor, plus a 2 percent to 3 percent premium, according to Investopedia. Also, when the credit markets are in turmoil, as they were in 2008, a soaring Libor rate raises funding costs for global banks. Lenders in turn typically pass those higher borrowing costs to Main Street.
In mid-February, Bloomberg News broke the story of a court filing from Canada's Competition Bureau in which an unnamed bank alleged a scheme by bankers to manipulate the yen Libor rate to increase trading profits. Canadian regulators are trying to figure out if traders acted in unison "to see a higher or lower yen Libor to aid their trading positions," according to the court filing. Since then, other global regulators have joined the hunt.
Money traders in London "regularly discussed where to set the measure with traders sitting near them, interdealer brokers and counterparts at rival banks," a Bloomberg News story reported, citing money-market traders with direct knowledge of procedures at three firms who asked not to be identified because they weren't authorized to speak about the subject. The practice became common after the money markets seized up four years ago, according to unnamed sources cited in the Bloomberg piece.
The money quote from the Bloomberg report: "A few hundred people, mostly based in one city and sitting in close proximity to each other, set an index rate for trillions of dollars of securities with little or no oversight," said Mark Sunshine, chief executive officer and chairman of Veritas Financial Partners, a Florida-based firm that provides loans to businesses and real estate companies.
This story is still evolving, so it's far too early to say whether anybody on planet Libor broke any laws. Yet that's almost beside the point. The idea of a clique of money traders setting such a crucial rate without any regulatory oversight is worrisome. After all, global bankers have been known to behave badly when left to their own devices.
Before it's here, it's on the Bloomberg Terminal.
LEARN MORE