This Bull Market Has Serious Self-Esteem Issues
by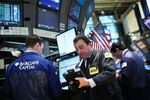 Next week marks the third anniversary of the current bull market cycle in U.S. stocks. Back on March 9, 2009, a day not easily forgotten in the annals of wealth destruction, the S&P 500 sank to a 12-year low of 676, the bottom of the worst bear market since the Great Depression. Since then, the S&P has more than doubled. In fact, this bullish run in stock prices is in the top 10 in terms of duration (1088 days) and so far has delivered a bigger pop in share price appreciation (102 percent) than the 96 percent gain during the long upswing in stocks that lasted from July 23, 2002 to October 9, 2007—just before the economy and the U.S. financial system became a heaving mess.
So if things are so much improved in the U.S. stock market, not to mention the broader economy, why does this bull market have all the raw energy of a performance by Lana Del Ray? Investors for the most part are still curled up in the fetal position, preferring to put their money in bonds and money market accounts rather than stocks. Investors have pulled more money out of  U.S. domestic mutual funds than they've put in for five straight years. They withdrew $134 billion last year, according to the Washington-based Investment Company Institute. Trading volume in S&P component stocks, at near comatose levels this year, is down 20 percent through Feb. 21, year-on-year, according to Deutsche Bank.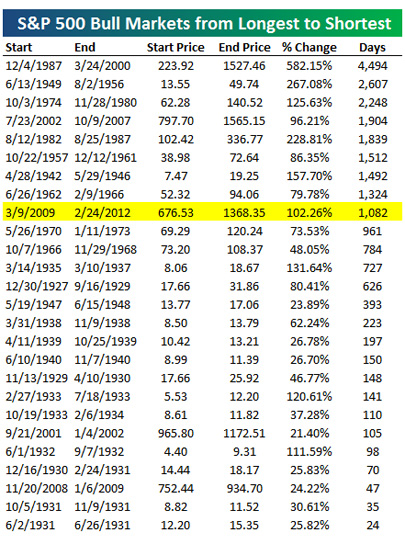 You know things are bad when Wall Street firms such as Blackrock, the world's biggest asset-management firm, start taking out multiple-page ads in the financial press urging investors to rethink the cost of cash. At a Feb. 29 speech in New York, Blackrock Chief Executive Officer Laurence Fink said: "I have said many times that I would personally be 100% in equities." But many investors don't see it that way, even though stocks are still reasonably priced, despite the big run-up during the last three years, says Kent Daniel, a finance professor at the Columbia Business School. "There really is still a mood of pessimism," he says. "There are a lot of individual investors that are terrified and sitting out for a while."
Until that changes, this bull market is not going to be much of a party. It won't improve the wealth of a broad segment of investors, as past rallies have. It may take a while longer for the post-trauma syndrome of the 2008-2009 financial crisis to lift.
Before it's here, it's on the Bloomberg Terminal.
LEARN MORE