Newt's Flailing (Don't Tell Callista Gingrich's Favorite Hairspray Maker)
By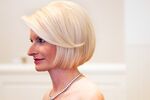 Newt Gingrich's chances of winning the GOP nomination are looking slim, given his poor performance Tuesday in Michigan, where he won only 7 percent of the vote. There will be some folks lamenting in South Carolina and maybe New Hampshire when he finally does quit. Most disappointed of all may be Kenra Professional hair care products.
No, really. Who hasn't marveled at the immovable swoosh framing Callista Gingrich's face at every campaign stop, wondering what chemical concoction could possibly be capable of freezing the 'do in place? Three weeks ago, the New York Times finally cracked the mystery, revealing that "the Callista" keeps its shape thanks to Kenra Volume Spray 25. (The 25 stands for "super" on the company's 0-25 "hold index.") "We were ecstatic," says Angela Dunning, Kenra's vice president of marketing. "I'm sure there are a lot of politicians and celebrities that use it, but this is the first [politician's wife] to give us credit."
The company, based in Indianapolis and owned by private equity firm TSG Consumer Partners, says it saw some love on Facebook and was happy to see that "Callista Gingrich's Hair" also had its own Facebook account, at which bob-lovers were apparently talking up the spray. Alas, that page—which described the bob's religious views as Baptist, relationship status as "It's complicated with Newt Gingrich," and summed up the account as "the harder the hair, the tougher the woman"—seems to have been taken down. (Hard to believe the hair would give up before Newt.)
So let's talk about what good election publicity can do for the bottom line of what seems like a relatively obscure product. Kenra Volume Spray 25 retails only through salons. A 16 oz. bottle costs $24. The company sold 4 million units of the spray last year; it's the top-seller in the whole portfolio. Kenra says its products have been going fast at one of the salons the Times talked up but doesn't have specifics and says it's too early to see how much sales are climbing in general. "We work through distributors, not direct, so it's hard to track our sales," says Dunning. "It'll be interesting to see how it spikes sales. I'm sure it will."
And if Newt bails? And Callista steps out of the spotlight? Dunning says she can only hope for another presidential pitchwoman: "Maybe somebody else will come out of the closet saying they use Volume Spray."
Before it's here, it's on the Bloomberg Terminal.
LEARN MORE