Living in Your Car: No Longer Just for Bums
Eric Spitznagel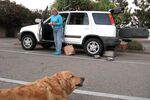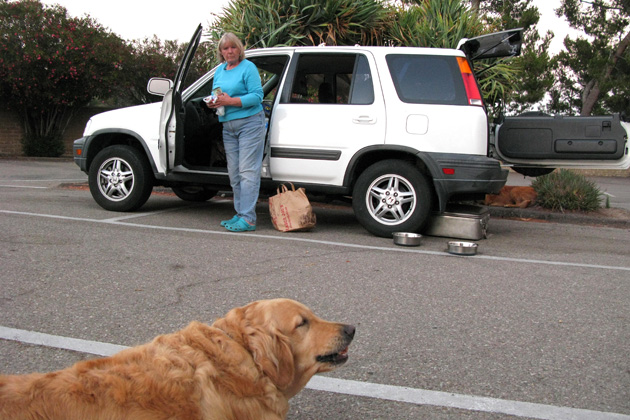 By most standards, Jessica Spaulding has a successful life and career. The 31-year-old Californian splits her time between Long Beach, where she runs fundraising drives for public radio station KJazz 88.1, and San Diego, where she's pursuing her master's degree in accounting at National University. Because of her busy schedule, she decided to give up her posh apartment in Santa Monica. "I work 50 to 60 hours a week and felt like I never saw it," she says. These days, her housing is a little more humble. For the past five years, she's lived in a 2007 Prius.
Her co-workers and fellow students have been mostly supportive, although they still occasionally offer to help her find a proper home. Spaulding recalls a recent conversation with a co-worker who offered to "ask around to her friends for a spare room I could rent. That's somewhat common. People think I can't find a place to live because of my strange in-town/out-of-town schedule." She insists that she prefers this living arrangement to the alternatives. "It's like traveling with your entire house with you," she says. She realizes that public perception is that anybody living in a car must be doing so against their will, but she hopes that as upwardly mobile people such as herself increasingly go public, living in a vehicle will finally be seen "as a viable option."
Being homeless and a working professional are no longer mutually exclusive. A recent census by the Coalition for the Homeless reveals that among the current national homeless population, approximately 44 percent have jobs. Although the U.S. Census Bureau doesn't keep records of the so-called vehicular homeless, there are informal estimates that up to 59.2% of homeless are living in cars or vans, the biggest percentage since the Great Depression's "Ford families." The difference is, not all of them are victims of circumstance. For many gainfully employed Americans, a bed on wheels is a lifestyle choice.
For Glenn Morrissette, a 42-year-old professional musician, opting to live in his vehicle—he resides in a 21-foot Chinook Concourse, which he calls "a little bigger than an extended cargo van"—was as much about stress reduction as economics. "It really takes a ton of pressure off," he says. "Even during slow months I still earn enough to survive exactly how I want to." Not that he's lacking steady work. Most recently, he has been employed as an orchestrator for the Fox sitcom Family Guy. "[It] basically entails taking the composer's sketches and turning them into full-blown orchestral scores," he says. He's not eager to let his employers know that he essentially works (and sleeps) where he parks. "I certainly realize the potential for clients to feel uneasy about how my lifestyle might affect my work," he says. But given that he keeps moving—he has lived everywhere from Los Angeles to New Jersey—and that he never needs to meet clients in person, as "everything is done either over the phone or via e-mail," his RV home usually remains a secret.
"No longer does everyone associate frugality with poverty," says Ken Ilgunas, who lived in a 1994 Ford Econoline while pursuing his master's degree in liberal studies at Duke University (he graduated last May). "In past decades, if we saw someone growing their own food, sewing torn clothing, and living in some austere dwelling like a vehicle—doing things that poor people do—we might have felt sorry for them." But now, he says, living in a vehicle is about independence and freedom, not financial hardship. Even celebrities are doing it. Last September, soul legend Sly Stone briefly lived in a van in Los Angeles, even though his attorney had rented a four-bedroom home for the singer in Woodland Hills. "I just do not want to return to a fixed home," Stone admitted to the New York Post. "I cannot stand being in one place. I must keep moving."
Mike Ekeler, the 39-year-old co-defensive coordinator for the Indiana University Bloomington football team, has been living in a 45-foot Holiday Rambler Navigator since joining the team in early 2011. (It's parked near the south end zone of Memorial Stadium.) Joss Stone, a 2007 Grammy winner for Best R&B Performance, told talk show host Craig Ferguson in July that she'd lived in a van for four months during 2011 because she "thought it would be fun."
For many of the vehicular homeless who are gainfully employed, van-dwelling proves to be such a satisfying existence that it makes them reconsider their day jobs. Jason Odom, a 46-year-old Web developer, worked for NASA between 2000 and 2005, building a website for their biology program. At night, he says, he lived in a "34-foot motor home parked half a mile from the ocean in Cape Canaveral." He quit NASA in 2005 to devote himself full time to being a van enthusiast. He has since created a website and self-published a book devoted to the "Vanabode" (a word he has trademarked) lifestyle. The language on his website sometimes sounds like he's selling vacation home time shares. "Have a great life on $20 a day," it claims, "including delicious food, lodging, transportation, a hot bath, a good nights sleep in your own clean comfortable bed, and days and nights filled with great fun, romance and a never-ending variety of adventure." Odom currently lives in what he describes as a "plain white Chevy van" somewhere in Florida. And business for his book and website, he says, has never been better. "The economic downturn has really increased interest in my lifestyle," he says.
Not all van-dwellers are so brazen. Maureen (not her real name) from Mission Viejo, Calif., has several employers, for various administrative jobs, and she recently started her own business, which she'll describe only as "a service for homeowners." She has lived in a van (a white Dodge) since September 2011, a decision she still thinks makes good business sense, especially given her "small, somewhat inconsistent living." By eliminating office expenses such as rent and utility bills, she says, "I don't have to panic if I have a slow week." But she's not eager to share this information with employers or clients. "I always thought homeless people were on drugs, smelled bad, and/or were lazy," she says. "So I imagine [my clients] would feel the same. Who needs the stigma?"
That stigma may be disappearing, albeit slowly. Jessica Spaulding has seen the changing opinions at the radio station where she works. "Just yesterday I had a co-worker mention that if a few years ago her son had told her he was going to live in his car, she would have freaked out," Spaulding says. "But now, after having talked to me and seen how I've done it so successfully, she would be a lot more OK with it."