business
How the U.S. Became 'The China of Refined' Gasoline
By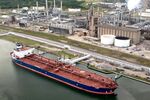 You hear all the time that America is too dependent on foreign oil. For the better part of the past 50 years, the U.S. has imported the majority of its crude. But that dependance is quickly diminishing. According to the Energy Information Administration, crude oil imports fell to 8.9 million barrels a day in 2011, the lowest level in more than a decade. Since 2005, foreign imports have dropped from 60 percent of U.S. consumption to 45 percent last year, according to U.S. Department of Energy data.
In December 2011, for example, the U.S. imported 1.3 million barrels a day from Saudi Arabia, compared with 1.6 million in December 2007. The decline in imports from Venezuela has been even steeper—just 860,000 barrels per day compared with 1.3 million four years earlier, although Venezuela's declining production capacity has also been a factor in the drop.

While the U.S. is becoming less reliant on foreign crude, the world is becoming more reliant on gasoline and diesel fuel refined in the U.S. This week, we learned that in 2011, the U.S. became a net exporter of gasoline, diesel and other fuels for the first time since 1949. Such refined products were the top U.S. export in 2011, beating out such staples of U.S. manufacturing as Detroit's autos and Boeing's airplanes.
"We have become the China of refined products," says Fadel Gheit, a senior energy analyst at Oppenheimer & Co. "We're dumping product into other countries' backyards."
Just as Chinese manufacturers are able to make many products for a cheaper price due to lower material and labor costs, U.S. refiners have two key competitive advantages over foreign rivals: cheaper natural gas and access to a cheap, abundant supply of oil. Natural gas is a key raw material for refineries, which use it predominantly as a source of fuel to operate. Since last summer, the price has fallen 50 percent in the U.S., while hydraulic fracturing methods have significantly increased the supply of natural gas in the U.S.
More importantly, the price of the crude oil that most U.S. refineries process has been trading at a steep discount to the international supplies of crude that foreign refineries have to use. Most foreign refineries buy oil that's pegged to the price of Brent crude, which has risen more than 25 percent in the past year due to the uprisings in Libya and Egypt and recent concern over Iranian oil disruption. Meanwhile, U.S. refineries in the Midwest and Gulf Coast process crude that's pegged to the price of West Texas Intermediate, which has stayed low, thanks to all the oil gushing out of North America. Since 2009, North Dakota has more than doubled its monthly oil production to 16 million barrels as of December 2011, surpassing the output of Ecuador late last year. That supply has kept WTI-priced oils cheap, while the cost of Brent-priced oils has skyrocketed.
"This cheaper supply of crude has given U.S. refineries a tremendous competitive advantage over their competition," Gheit says. "Just like China, we are using cheaper raw materials to sell a product priced in a global market."
Although a number of unprofitable refineries on the East Coast have had to close because they lacked access to cheaper WTI-priced oil, those in the Midwest and Gulf Coast are expanding. Even though a new refinery hasn't been built in the U.S. since the 1970s, refining capacity in the U.S. has been steadily increasing, climbing 0.8 percent, to 17.7 million barrels a day in December from a year earlier. Marathon Petroleum has finished a $3.9 billion expansion of its refinery in Garyville, La., and Total completed a $2.2 billion expansion of its refinery in Port Arthur, Tex., which can now process a wider range of crude. In 2011, the Garyville refinery more than doubled the amount of diesel products it exports, to 27.6 million barrels, says Marathon Petroleum spokesman Shane Pochard.
Refineries should continue to export more of their product rather than sell it inside the U.S., where demand remains close to a 15-year low thanks to more fuel-efficient cars and a greater share of ethanol in our tanks. This points to a future where an increasing share of the world's refined fossil fuels come with a sticker: Made in the U.S.A.
(
An earlier version of this story misstated North Dakota's monthly oil production as 1.6 million barrels.
)
Before it's here, it's on the Bloomberg Terminal.
LEARN MORE