business
How a New IRS Form Affects Americans With Overseas Businesses
By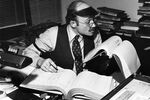 What will the 1099-K mean for U.S. citizens trying to run a small business overseas, buying and selling in foreign currencies, to both U.S. and non-U.S. customers? —A.S., Geneva
If you are living outside the U.S. and using a foreign address on your credit-card and electronic payment accounts, you will probably not be issued the new 1099-K tax form, says Barbara Weltman, a New York-based tax attorney and author of J.K. Lasser's Small Business Taxes 2012. In the instructions governing 1099-K reporting, the IRS specifically exempts payment processors from having to report transactions made to payees with foreign addresses. (I took a look at what the new rule means for businesses in the U.S. in a previous column.)
Of course, if your accounts are set up under a U.S. address, you will get the form. And either way, if you are a U.S. citizen you must file a Form 1040 and pay federal taxes on your income, regardless of where it comes from, says Wonsun Willey, a tax partner in the Morgan Hill (Calif.) office of CPA firm Sensiba San Filippo. Depending on whether you own property or have business interests in specific states, you may also be required to file state tax forms, Willey says.
The 2011 1040 form does not require you to enter the amount listed on your 1099-K, if you do get one. The forms are being issued to an estimated 53 million businesses that have more than 200 transactions and $20,000 in annual gross receipts from third-party payment servicers such as EBay and PayPal.
Most small business owners will combine the amounts reported on their 1099-K forms with any other income they received in 2011 and report it as gross receipts on their Schedule C. For this tax year, Weltman says, the new forms are mostly informational, since the IRS does not intend to do computer matching between the amounts listed on 1099-K and 1040 forms.
The 1099-K forms are expected to flush out some income that was routinely going unreported in the past, however. "I was at an EBay convention a few years ago, and someone asked, 'I'm going to earn seven figures this year, do I have to report that income?' Somehow people really believed that if the money came from online transactions, it didn't count," Weltman says.
The IRS issued a statement last month, saying businesses will not have to reconcile the difference between the amount reported on their 1099-K forms and their own receipts for credit and debit transactions. The amounts are likely to differ based on many factors, including refunds, chargebacks, and fees, and the effort taken to reconcile the figures was seen as onerous, particularly for small business owners, Willey says.
Legislation is being considered to ease the burden further for tax year 2012 by either deferring implementation of 1099-K computer matching or increasing the threshold for reporting, so fewer microbusinesses are subject to it, she adds.
Before it's here, it's on the Bloomberg Terminal.
LEARN MORE