Can Dog TV Make a Profit?
Julian Sancton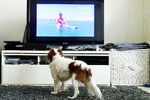 Gilad Neumann wants to be clear: He does not want to turn your dog into a couch potato. But if you're going out for a few hours, he hopes that soon you'll leave your television on and tuned to his new cable channel, Dog TV, the first channel directly targeting canine viewers.
"Veterinary associations like the Humane Society and the ASPCA have been recommending for dog owners to leave the TV or radio on when they leave their dog home alone for many hours," says Neumann, Dog TV's founder and chief executive officer. However, "not every video that you leave your dog with is appropriate," he says. "[Anything that contains] fireworks or gunfire could scare your dog and create more stress than no TV." Dog TV's programming, on the other hand, is meant to soothe your dog's abandonment anxiety—and spare your furniture—while he or she is alone.
Dog TV went live on Feb. 12 after four years of dog-market research and several hundred thousand dollars of pre-seed money (Neumann won't give a specific amount). For now, it's available only to Time Warner Cable and Cox Media customers in the dog-loving city of San Diego, a test market of about 1 million cable subscribers. Jasmine Group, the Israeli production company behind Dog TV, hopes to expand across the U.S. by the end of the year, and start charging a premium of $4.99 per month. The company believes this is a small price for absentee dog owners to pay to assuage their guilt—especially compared with doggy day-care rates, which can range from $40 to $50.
Watch a few minutes of Dog TV—a beagle and a Pekingese cavorting in a field set to cheery Muzak, say—and you'd be forgiven for confusing it with the Puppy Channel, the terminally cute, all-puppies-all-the-time experiment that hit its peak in the late '90s before becoming a casualty of the dot-com bubble and setting a daunting precedent for other dog-centric programming. But a lot has changed in the last decade, both in entertainment and in man-pet relations: There are an increasing number of pampering products and services that extend human comforts to dogs, from gourmet food to therapy. And Dog TV, after all, isn't for humans. For one thing, the colors will seem off, since they've been calibrated to suit dogs' limited vision. (Essentially color-blind, dogs can only see shades of blue and yellow.) "We're constantly doing … you can call them focus groups for groups for dogs," says Neumann. "We've noticed, for example, that dogs are not thrilled about barking on the channel, so we've removed almost all barking."
The content is relatively cheap to produce: Videos are shot largely in San Diego and Israel, canine actors don't need to be paid, there are no elaborate sets, and the veterinarian-approved music is written and performed in-house. Short segments play throughout the day and are designed to alternately soothe and stimulate the viewer.
There are, as yet, no plans to air dog sitcoms, dog procedurals, or any form of narrative content. "We're not creating CSI for dogs," says Neumann. The reason, he says, is not so much that dogs wouldn't be able to follow a narrative show. On the contrary: He's worried they would get hooked. "We're not creating a TV channel for dogs so they sit there for eight hours a day." Dog TV's goal, he says, is simply to "create a good environment for the dogs."
In a video on Dog TV's website, Nick Dodman, a Tufts University veterinarian who acts as an adviser to the channel, says, "One thing that people shouldn't expect is for their dog to sit, as we do, in front of the TV and stare at the screen for hours and hours. It's more of a backdrop." If dogs are not expected to react to the screen, and owners aren't around to see how the dogs behave in their absence, how can subscribers be sure they're not just paying $4.99 a month for glorified—and discolored—YouTube videos? "A hundred percent of the time, [owners] get research-based content in which both music and video are completely appropriate for their dog," says Neumann. "There's nothing to irritate, stress, or scare your dog."
The channel's creators are planning to attract advertising, but aren't yet sure how to integrate it into the programming. "The advertising is mostly going to be on our digital [platforms], because we know it's difficult to advertise on the channel for the dogs because it's not really effective."
If Dog TV is a success domestically, Jasmine Group hopes to expand internationally. "It's an advantage of the channel that we can move the content to any country because the language is not significant," says Yossi Uzrad, president of Jasmine Group and a producer of films such as The Band's Visit, Israel's official entry to the 2008 Oscars. Because Jasmine owns all the rights to the content, Uzrad foresees other growth opportunities. "People can buy Dog TV music and put it in the car while they're driving, for example," he says.
Before it's here, it's on the Bloomberg Terminal.
LEARN MORE