The Hedge Fund That Beat Paulson and Soros
By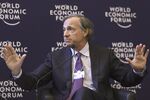 Hedge fund managers are measured by two things: the size of their fund, and how much they earn for investors. Since 2009, Ray Dalio's Bridgewater Associates has been the biggest hedge fund. According to a Feb. 29 report by Leveraged Capital Holdings (LCH), a British fund of funds, Dalio has now earned more money for clients than any other fund manager, ever.
Bridgewater's Pure Alpha fund, which Dalio launched in 1975, made $13.8 billion in 2011, bringing its total lifetime gains to $35.8 billion. That vaults Dalio over George Soros and John Paulson for career fund earnings. Soros is the billionaire investor legendary for making $1 billion in a single day in 1992 by shorting the pound—giving him a colorful reputation for "breaking the Bank of England." When he retired last summer, that froze his Quantum Endowment Fund's total lifetime net gains at $31.2 billion since its launch in 1973.
John Paulson, after making billions over the past few years by shorting subprime mortgages, got crushed in 2011, losing $9.6 billion, according to Bloomberg News. That's double Long-Term Capital Management's epic loss of nearly $4.8 billion in 1998. Since he launched his fund in 1994, Paulson has net gains of $22.6 billion.
Dalio's move into the top spot comes amid general declines in the hedge fund industry. LCH reports that hedge funds lost a total of $123 billion in 2011, or about 5.2 percent on average. It was just the third calendar-year decline since 1990, according to Hedge Fund Research in Chicago.
This year is off to a much better start. "Through the first two months of 2012, we've seen gains of about 5 percent," says Kenneth Heinz, president of HFR. "We're getting greater clarity on the situation in Europe, which seems to be working toward a more optimistic solution. So I think risk tolerance is coming back."
Dalio runs a macro strategy at Bridgewater, which is notoriously difficult, LCH chairman Rick Sopher wrote in the Feb. 29 report. Macro funds can invest in every asset class out there—stocks, bonds, currencies— betting on broad swings in such things as interest rates and countries' economic policies. Bridgewater is known for its eccentricities and a "bizarre culture of criticism." Last year, New York magazine called it the "weirdest hedge fund in the world." No one seems to mind, as long as Dalio's making money.
Before it's here, it's on the Bloomberg Terminal.
LEARN MORE