MBA Jobs Outlook: Cloudy at Best
Louis Lavelle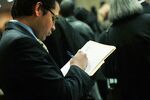 The news this week about the MBA job outlook was once again overwhelmingly positive. The headlines were based on a new report from the MBA Career Services Council. The takeaway: 70 percent of schools responding to the CSC's fall 2011 survey reported an increase in on-campus recruiting. Once again, the devil's in the details.
There's no denying that 70 percent of schools witnessing an increase in recruiting is pretty impressive. But that's actually less than the last time CSC took the pulse of MBA recruiting, in 2010, when 76 percent reported an increase. And if you break down that 70 percent by the size of the increase reported you'll find that 26 percent of those surveyed had increases of just 1 to 5 percent—barely moving the needle.
But the really telling detail in the CSC report is the industry breakdown. While recruiting is up in consumer products, media and entertainment, energy, technology, and elsewhere, it's down in the two industries that matter most to MBAs: financial services and consulting. About 41 percent of programs reported an increase in recruiting activity in financial services in 2011, down from 59 percent the year before. About 59 percent reported an increase in consulting recruiting, down from 67 percent in 2010.
As disappointing as they are, even those numbers likely mask a bigger decline in the number of available jobs. In fact the number of schools reporting a year-over-year increase in job postings on school job boards was 68 percent overall, down from 86 percent in 2010. CSC did not publish an industry breakdown of job postings.
What's this mean for b-schools? Well, it depends on the school. Top-ranked schools probably have less to worry about than those lower down the food chain, but schools with a greater dependence on financial services and consulting jobs probably more so. At some schools—including Harvard Business School, Wharton, and NYU's Stern School—about two-thirds of the 2011 graduating class ended up in consulting or financial services. At Duke's Fuqua School of Business (57 percent) and Carnegie Mellon's Tepper School of Business (53 percent) and the University of North Carolina's Kenan-Flagler School of Business (47 percent) the numbers are somewhat lower.
While the most sought-after students will no doubt continue to get offers in these industries, many others—particularly those at lower-ranked schools—will need to dust off their Plan B jobs and become accustomed to disappointment. Research has shown that the job choices MBAs make at graduation—particularly the choice not to take a Wall Street job–can have a profound impact on their lifetime earnings, dramatically reducing their return on the investment they made in their degrees. More evidence, in case any more was needed, that when it comes to career advancement the MBA is no longer a sure thing.
Photograph by Spencer Platt/Getty Images
Before it's here, it's on the Bloomberg Terminal.
LEARN MORE