Mapping Housing Misery
A look at which states' housing markets have performed the worst.
By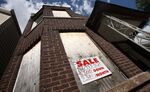 The economy may be inching toward a rebound, but it's largely failed to help the housing market. Home prices continue to drop (down 34 percent from their peak), with some saying we are now in the midst of a "triple dip."
The housing crisis remains uneven. While prices are below their 2000 levels in Detroit, Cleveland, Atlanta, and Las Vegas, they are 50 percent above the 2000 levels in New York, Washington, D.C., Boston, Los Angeles, and San Diego.
But there are other ways to track the market.
The Housing Misery Index, created by economist and Atlantic Cities contributor Jed Kolko of Trulia, provides another metric for gauging the performance of the housing market. Kolko modeled the Housing Misery Index after the original Misery Index for the economy, which combines unemployment and inflation. The Housing Misery Index looks at the percent change in home prices from the peak until today from FHFA and the percent of mortgages either severely delinquent or in foreclosure, as determined by CoreLogic. Kolko explains the importance of these indicators:
First, big price drops lead to more underwater borrowers and less household wealth, which hurt the housing market and hold back economic recovery. Second, defaults and foreclosures damage consumer confidence in the housing recovery, and foreclosures cause pain not only for people who lose their homes but also for their neighbors.
So where can we find the most miserable states for housing? Take a look:

Source:  Trulia Housing Misery Index, Trulia.com
The four states with the greatest level of housing misery are all Sunbelt states: Nevada, Florida, Arizona, and California. Each has seen huge price declines and large numbers of foreclosures. As Kolko notes, the gap between the top four states, and the fifth, Michigan, is substantial. The five states with the least miserable housing markets are Alaska, North Dakota, South Dakota, Texas, and Nebraska.
My colleague Charlotta Mellander took a quick look at how the Housing Misery Index correlates with a range of state-level economic, social, and political characteristics. As usual, I note that correlation does not equal causation, pointing only to associations between variables and that other factors not taken into account may come into play. Still her findings are intriguing and worth reporting here.
Housing misery is directly linked to the economic crisis. There is a substantial correlation between Housing Misery and the unemployment rate (.61). Housing Misery is positively associated with the percentage of state residents who rate current economic conditions to be "bad" (.47) and negatively so with the percentage who rate them as "good" (.46). There is no correlation whatsoever between housing misery and state income levels or education levels.
Kolko notes that Republican primary candidates might gain some political leverage by focusing on housing in states where housing misery levels are high. We checked, and it turns out states with higher levels of housing misery tended to vote for Obama in 2008 (the correlation between the two being .32), while those with lower levels of housing misery were more likely to go for McCain (-.33).
You can find the complete Housing Misery Index here.
Top image: Reuters/John Gress