Why Muni Investors Aren't Sweating Over Stockton
by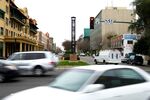 The California city of Stockton has moved one step closer to bankruptcy, but muni investors aren't panicking. Last night Stockton's city council voted to skip $2 million in bond payments and, signaling more gloomy news to come, to begin negotiating with creditors as it tries to avert bankruptcy. The city, saddled with high crime and a foreclosure rate second only to Las Vegas, faces at least a $20 million budget gap.
Although Stockton's on the brink, "I don't think it's a pervasive sign of bad things to come," says Marilyn Cohen, founder of Envision Capital Management. Muni defaults are rare, currently making up 0.35 percent of the $3.7 trillion municipal-bond market, according to Municipal Market Advisors. The median expectation of 14 large investment firms responding to a Securities Industry & Financial Markets Association survey was that 24 muni issuers would default this year.
In fact, demand for new muni bonds remains strong. The State of California is in its second day of a successful $2 billion debt sale. Treasurer Bill Lockyer says retail demand for the state's bonds has been "pretty hefty." There's enough demand that, as our colleagues at Bloomberg News are reporting, California has been able to lower the yield on some of the bonds it's offering.
Demand has been strong because there aren't many appealing fixed-income alternatives. Despite having the lowest yields since Lyndon Johnson was president, muni bonds were seen as "cheap" compared with Treasuries, Morgan Stanley Smith Barney said in a research note from Feb. 10. And since those muni bonds are tax-exempt, their actual benefits are higher. Strong investor demand has helped push up muni bond prices. According to the Merrill Lynch Municipal Master Index, prices are up more than 11 percent over the past year. Interest on muni bonds is tax-exempt, adding to the appeal.
As demand lets municipalities push down yields—as in California—munis lose their edge over Treasuries, which Morgan Stanley says may cause the market to cool. Cohen agrees that the "rock 'em, sock 'em" returns won't last forever. "To think we are going to have such tremendous back-to-back total return years," she says, "is a little bit wishful."
Before it's here, it's on the Bloomberg Terminal.
LEARN MORE