Where Gingrich and Santorum Go After Michigan
By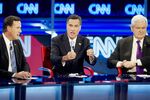 Last night, as the Michigan and Arizona returns were coming in, Newt Gingrich appeared on cable and lapsed into speaking about the Republican race as though he were no longer a part of it. In truth, he barely is—Rick Santorum has emerged as the only serious challenger to Mitt Romney, and after getting swept in Michigan and Arizona yesterday, he doesn't have much hope of besting Romney either. At this point, the fates of Gingrich and Santorum are pretty much interlocked. They can continue to bother Romney, and probably each will notch wins on Super Tuesday. Or they can strike a deal in which one drops out and supports the other. Absent the latter scenario, Romney is all but certain to become the nominee.
Santorum is the stronger of the two candidates and better positioned to benefit from consolidating blue-collar, evangelical, and Tea Party support. The question is what, if anything, he could do to induce Gingrich to quit. Right now, there doesn't seem to be a plausible answer. Gingrich's Super PAC just received another large check from his benefactor, Sheldon Adelson, and the candidate himself has put real effort into Georgia, which votes on Tuesday.
But if Gingrich fares poorly on Super Tuesday, some possibilities may open up. His campaign and Super PAC will probably have burned through most of their money. His other path to relevance—debates—will probably be foreclosed. The March 1 and March 5 debates have been canceled, and the March 19 debate in Oregon, though formally still on, hasn't gotten confirmation from any of the candidates. If he bears enough animosity toward Romney—who has twice pounded him into submission in a fashion that has plainly made Gingrich very angry—well, who knows what could happen? It's doubtful that he would covet a VP slot, and Santorum doesn't seem able to offer him much else: Make him Space Czar? Give him a four-hour speaking slot at the convention?
Hard to see any of these persuading Gingrich to quit. On the other hand, seeing Romney with a clear path to the nomination might just be enough.
Before it's here, it's on the Bloomberg Terminal.
LEARN MORE