Asian Women Taking GMAT On the Rise
Alison Damast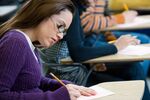 If slow and steady wins the race, female business school applicants are making their way closer and closer to the finish line. In the last testing year, a record 106,800 women took the exam, making up 41 percent of all test takers, up from 40 percent the year before, according to the Graduate Management Admission Council (GMAC), which offers the exam. This is the third consecutive year that more than 100,000 women have sat for the Graduate Management Admission Test (GMAT), with much of the increase continuing to be driven by East Asian women, says Michelle Sparkman-Renz, GMAC's director of research communications.
"It's quite significant," Sparkman-Renz says. "When we first saw it happen in 2009, you wondered if it was a fluke or part of the recession. But we've continued to see a new generation of women in MBA and master's programs, so it feels like it is here to stay."
This year's report is good news for business schools, at which women are still far from a majority on most campuses. Female enrollment at most top U.S. business schools still hovers at just over 30 percent, though many business schools are making more concerted efforts to attract women. This year, women make up 45 percent of the MBA class at the University of Pennsylvania's Wharton School—the largest number in the school's history—and female enrollment jumped by nearly 40 percent this year at several schools, including Harvard Business School.
About 70 percent of full-time MBA programs reported having made specialized outreach to women last year, up from 54 percent in 2010, GMAC says. Specialized master's programs are also increasing their efforts in this area, with half of master's of accounting programs and a quarter of master's of finance programs reporting that they are trying to increase the proportion of women in their applicant pool. Business schools, especially those in the U.S., are trying to take advantage of surging interest from female applicants, says Elissa Ellis-Sangster, director of the Forté Foundation, a consortium of 39 business schools working to increase the number of women pursuing MBAs.
"A lot of these outreach-and-marketing efforts in master's programs is directed towards reaching those younger women students," she says. "Schools are reaching deeper into the pipeline than ever before."
U.S. women still lead the way when it comes to testing volume among women worldwide, even though fewer overall took the exam last year. There were 45,735 U.S. women who took the GMAT in 2011, down from 50,053 in 2010—a nearly 8 percent decrease. GMAC attributes the decline to a strengthening U.S. economy, which typically results in a reduction in applications to MBA programs.
East Asian and Southeast Asian women are largely making up the difference. Of the 10 global regions that GMAC tracks, women in East and Southeast Asia accounted for the largest portion of test takers last year—58 percent, up from 54.6 percent in 2010—and are part of a rapidly growing younger female GMAT pipeline. Worldwide, women younger than 25 now make up more than half, or 54 percent, of female examinees, up from 45.5 percent in 2010, GMAC says.
Nowhere is this trend more evident than in China, where younger women are looking to burnish their resumes by getting master's degrees from prestigious Western business schools, says Peter von Loesecke, chief executive officer and managing director of the MBA Tour, which organizes admissions events with leading business schools in major cities around the world. Women made up 64 percent of all GMAT test takers in China last year, up from 62 percent in 2010, GMAC said.
The proportion of women registering for MBA Tour events in Beijing and Shanghai jumped from 47 percent in 2006 to 56 percent in 2010, von Loesecke says. Increasingly, many of these women have limited or no work experience. In 2010, the vast majority of registrants without work experience were women; in 2011, so many female registrants fell into that category that for the first time the organization denied some younger women admission to the Beijing and Shanghai tours, von Loesecke says.
"Rather than wait several years in a less-valued job to get an MBA, more Chinese women than men are opting for a master's to launch their careers sooner," von Loesecke wrote in an e-mail.
With many women in a rush to get business degrees while they're young, it should come as no surprise that women are pursuing a faster timeline than men when applying to business school. On average, women spend about 4.4 years from the time they first consider attending a graduate business program to the time they sit for the GMAT exam and submit their first application. That's about seven months less than the more than five years taken by their average male counterparts, GMAC says.
"Women are not only entering the business school pipeline at an earlier age, but moving through it at a faster pace," Sparkman-Renz says. "The implication for business schools is very real."
Before it's here, it's on the Bloomberg Terminal.
LEARN MORE