Why Home Sales Are Up While Prices Are Still Falling
Buyers and builders are seeing a bottom
by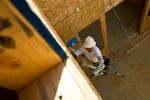 At first blush, it seems paradoxical: How could home sales and residential construction be recovering while home prices continue to fall? Are buyers and builders crazy? Why try to catch a falling knife, as they like to say on Wall Street?
The paradox intensified on Feb. 28 when Standard & Poor's announced that the S&P/Case-Shiller 20-City Composite Home Price Index (PDF) fell in December to the lowest level since 2003, down 4 percent from a year earlier. That bad news came just one day after the National Association of Realtors announced that its Pending Home Sales Index was up 2 percentage points to 97 in January.
Just contrast the tone of the announcements. Over at S&P, Index Committee Chairman David Blitzer said, "In terms of prices, the housing market ended 2011 on a very disappointing note." Realtors Chief Economist Lawrence Yun was happier. He said, "The trend in contract activity implies we are on track for a more meaningful sales gain." Builders are more optimistic, too: The National Association of Home Builders said Feb. 15 that the NAHB/Wells Fargo Housing Market Index of builders' confidence increased in February to the highest level in more than four years.
The explanation of the paradox is that this is exactly the pattern you would expect to see in a market that is forming a bottom. Home sales start up first; prices follow. Paul Dales, a U.S. economist for London-based Capital Economics, has created a chart showing a tight relationship between changes in prices (the Case-Shiller 10-city index) and the changes in sales volume from six months earlier. Buyers get that; so do builders.
"There are more people arriving at the conclusion that most of the price correction is over," says Harm Bandholz, chief U.S. economist of UniCredit Bank. "It's hard to time the bottom," Bandholz says, so buyers are going ahead with purchases now.
Builders are a bit more cautious about the rebound—despite their uptick in confidence—because prices remain so low, and credit so tight, that it's hard for them to make a buck on building houses. "They can't cut things any further," says Patrick Newport, a U.S. economist for IHS Global Insight.
Daniel Silver, a JPMorgan Chase economist, warns that even though housing is finding a bottom, "whether that's going to create a huge boom in the housing market, I don't know."
One last puzzle. Why don't prices start up as soon as market conditions improve? (The job market is strengthening and mortgage rates remain at historic lows.) Why, historically, has there been an average six-month lag between sales recovering and prices recovering?
Dales, of Capital Economics, attributes that to a certain inertia in human nature. When prices are falling, sellers are reluctant to face up to reality and reduce their asking prices. Conversely, when the market strengthens, buyers may refuse to budge and pay up—while sellers may be reluctant to scotch a deal by asking for more. If you're a buyer who needs to unload one property before buying another, says Dales, "you don't want to mess up the chain."
Before it's here, it's on the Bloomberg Terminal.
LEARN MORE