Why China's Gathering Communists Have Reason to Worry
By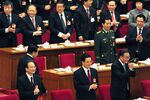 It's time again for China's Lianghui, literally "two meetings." That's Chinese shorthand for the annual gatherings of the National People's Congress and national advisory body the Chinese People's Political Consultative Conference. As before, roughly 3,000 congressional delegates and 3,000 conference members will converge on Beijing for interminable meetings starting in early March at the Great Hall of the People. And as before, it will be capped upon closing, in mid-March, with China's Premier answering questions from a carefully selected group of Chinese and foreign reporters.
But this year's session could have far more import than the often rubber-stamp sessions that have come before. That's in part because of the political calendar. With a once-a-decade leadership transition happening in China this fall, this will be the last time Premier Wen Jiabao presides over the congress: As well as answering reporters' questions, he will open the session on March 5 by giving the Work Report, roughly equivalent to the U.S. President's State of the Union address. At next year's event he is very likely to be replaced by Vice Premier Li Keqiang.
Indeed, of the now nine members of China's top leadership body, the Politburo Standing Committee, seven will retire this fall at the upcoming 18th Communist Party Congress, including Party Secretary Hu Jintao, who is stepping down for presumptive successor Vice President Xi Jinping (Hu will also hand the presidency to Xi in March 2013). The coming reshuffle at the top will be mirrored across China, with thousands of local mayors, provincial party secretaries and governors, as well as ministers and their deputies stepping down this year. On the sidelines of the meetings, delegates will no doubt discuss the coming massive change and what it might mean for them and China.
In a key transition year like this one, even the most pressing policy matters will get sidelined. "Before a Communist Party Congress, no one dares do anything eye-catching," says Wang Kan, a professor at the China Institute of Industrial Relations in Beijing. That kind of behavior is risky this year, since China must grapple with immediate problems. Seventy percent of the $1.7 trillion in debt accumulated by China's local governments as of the end of 2010 will come due by 2015, according to the National Audit Office. And much of the infrastructure those loans helped build may not show returns for years to come. Labor protests too are growing across China as rights-conscious workers confront margin-squeezed, cost-cutting factory managers.
China's top leadership is also grappling with long-term economic challenges that make this year crucial. Some of those were highlighted in a report titled China 2030, jointly released by the World Bank and China's State Council Development Research Center on Feb. 27. "After more than 30 years of rapid growth, China has reached another turning point in its development path when a second strategic, and no less fundamental, shift is called for," the report states. "Chinese leaders have recognized that the growth model will need to be changed to accommodate new challenges," World Bank President Robert Zoellick said in Beijing on Feb. 27, according to the China Daily.
In its broadest terms, that shift requires China to abandon its heavy reliance on investment and industry that has helped drive annual economic gains of 10 percent, but also proven wasteful of energy and badly polluting. Instead, China must boost its reliance on private consumption, still making up only one-third of gross domestic product, down from 46 percent a decade ago, and about one-half the rate in the U.S.
It must also spur more innovation and value-added production, and significantly boost the portion of its economy provided by services, all targets as outlined in China's 12th Five Year Plan that runs through 2015. And it will have to settle for significantly slower GDP growth, or an average of 8 percent a year over the next decade, says Louis Kuijs, a researcher at the Fung Global Institute, an Asia-focused think tank based in Hong Kong, and a former China economist at the World Bank.
Significant obstacles could make that shift longer in coming and the transition less smooth. That includes a phenomenon that Chinese economists and entrepreneurs have labeled guojin mintui, or "the state advances while the private sector retreats." That tendency really picked up steam during and after China's huge stimulus, which was launched at the height of the financial crisis. China's continuing emphasis on building up so-called pillar industries, among which it includes autos, steel, finance, and telecom, is crowding out growth opportunities for job-producing, income-raising small and midsize private enterprises, says Kuijs. "Financing is an issue, as are market access barriers, and other preferential policies aimed at stimulating the dominance of certain companies to the detriment of others," he says.
Also alarming: a growing income gap highlighted by a Gini coefficient that worsened from below 0.3 a quarter-century ago to near 0.5 today, according to Li Shi, an expert on income distribution trends at Beijing Normal University. (The measure, named after Italian statistician Corrado Gini, ranges from zero to 1. Poverty experts recognize anything above 0.4 as potentially socially destabilizing.) Official figures show rural incomes are less than one-third those in cities (6,977 yuan compared with 21,810 yuan at the end of 2011), with the top 10 percent of urban Chinese earning more than 20 times that of the poorest 10 percent—a ratio that is understated, according to Li and other economists. "A very small portion of the population has been reaping the largest income increases," says Kuijs.
To reduce that growing gap, the World Bank suggests further government efforts to build up a social safety net, including stronger health, education, and pension benefits, as well as reform of the hukou, or household registration, system. That would allow China's rural migrants to better tap those benefits now often reserved only for those with official status as urban residents. "Facilitating equal access to jobs, finance, quality social services, and portable social security … will be critical in reversing rising income inequality," the bank's report states. The top members of the party are meeting at a time of crisis—a slow-motion one, but a crisis nonetheless.
Before it's here, it's on the Bloomberg Terminal.
LEARN MORE