Steven Chu Is Looking for Suitors for Energy Startups
By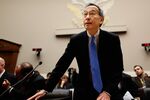 In March 2009, U.S. Department of Energy Secretary and Nobel Prize-winning scientist Steven Chu fulfilled his longtime dream of creating a fund to jump-start alternative-energy technologies the private sector might consider too risky an investment. ARPA-E, or Advanced Research Projects Agency-Energy, launched with $400 million in stimulus funding and was wildly competitive from the start; less than 1 percent of entrepreneurs who applied the first year were funded.
Three years later, the program is starting to bear fruit. Boulder (Colo.)-based OPX Biotechnologies, for example, which is developing E. coli bacteria to produce liquid biofuel with $6 million in ARPA-E funding, raised $36.5 million in venture capital last year and is partnering with Dow Chemical to bring the biofuel to the market.
This week, Chu is showing off his brainchild in Washington. About 200 DOE-funded startups are on display at the ARPA-E Energy Innovation Summit, where speakers including Bill Clinton, Bill Gates, and MIT President Susan Hockfield are touting the program along with CEOs including Ursula Burns of Xerox and Frederick Smith of FedEx.
Chu's hope is that more large corporations will strike deals with the startups, à la OPX-Dow. Like, say, if FedEx were to buy ARPA-funded biofuels for its trucks. But that may still be a long way off. ARPA-E has spent $522 million in government funding to date on 180 projects, but the startups have only attracted $200 million in private sector investment—much of it from venture capitalists.
Before it's here, it's on the Bloomberg Terminal.
LEARN MORE