Macy's Says Martha Stewart's Dance Card Is Too Full
The style maven strikes a deal with J.C. Penney, and longtime partner Macy's cries foul
by and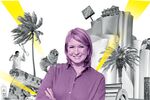 In 2005, Martha Stewart's company approached Macy's with an intriguing proposition. It offered the nation's second-largest department store chain the chance to sell a wide range of home goods bearing the name of the style doyenne. Stewart was already a household name, with a successful TV show and magazine and a line of housewares sold by discounter Kmart. There was one possible downside: Stewart had just been released from a federal prison after serving five months for obstruction of justice. Nonetheless, Macy's bit, and what followed was a partnership that made the Martha Stewart Collection one of the chain's most visible brands.
It appeared to be a match made in heaven—until Dec. 6. That's when Macy's says it learned that Martha Stewart Living Omnimedia would announce the following day an agreement to open mini-boutiques inside hundreds of department stores operated by J.C. Penney. Macy's considers Penney a rival for middle-market customers. So in January, Macy's sued MSLO in New York State Supreme Court for violating their current five-year deal. Macy's is understandably upset, says Craig Johnson, president of the consulting firm Customer Growth Partners. "They threw Martha a nice little lifeline. Macy's had invested a lot of money in it, promoting the brand."
That hasn't kept Stewart's company from responding with barrels blazing. On Feb. 10, MSLO filed a counterclaim that says the retailer mishandled her products and demoted her merchandise to loss-leader status: "They have used Martha Stewart Collection products to draw customers into Macy's, where its own private-label brands take center stage and, of course, generate higher profits for Macy's." Both MSLO and Macy's declined comment beyond their court filings. Penney had no comment.
That Stewart can flex her muscles against a major licensee so responsible for much of her past exposure is due in part to a big shift in U.S. retailing. Since the Great Recession, stores have been luring balky consumers with merchandise they can't find elsewhere, often hooked to a famous name—Kim Kardashian at Sears stores, for example. Retail consultant Robin Lewis says exclusive merchandise inoculates retailers against an increasingly common consumer practice: comparing prices on smartphones. That's one reason it's hard to go shopping these days without encountering Stewart's towels (Macy's), doggie raincoats (PetSmart), build-it-yourself furniture (Home Depot), craft kits (Michaels Stores), and desktop organizers (Staples). Her brand even transcends retail, with signature houses in subdivisions built by KB Home and destination weddings at Sandals Resorts.
Early on Stewart proved that hers was not an ordinary brand. Joining Macy's after selling in Kmart for about a decade demonstrated surprising strength since moving upstream from a discounter to a department store is extremely rare, says Michael Stone, chief executive of Beanstalk, a New York licensing firm that has worked with Mary-Kate and Ashley Olsen and helped Salma Hayek get a skincare line into the CVS Caremark drugstore chain. "That was a real accomplishment," he says.
So is the deal with J.C. Penney. The chain agreed to buy a 17 percent stake in MSLO for $38.5 million and, starting next February, will open hundreds of mini-stores devoted to all things Martha. According to the companies, the partnership will generate more than $200 million in revenue over 10 years for MSLO. "Penney offered to buy a chunk of stock and infuse a bunch of money, and gave a great opportunity to grow," says Margaret Gilliam, founder of an eponymous retail consulting firm.
MSLO could use the boost. With its publishing and television arms struggling in a tough advertising market, the company is increasingly reliant on branded products. The licensing partnership with Kmart ended in 2010, and royalties from that deal slipped to 1 percent of MSLO's total revenue that year, down from 10 percent in 2008 and 2009. Revenue, which totaled $232 million for the 12 months through Sept. 30, 2011, has fallen for the past three years.
Under its current deal with Macy's, Stewart's company is guaranteed a minimum of royalties. In its court filing, MSLO cites the department store chain's "uncanny success in consistently matching the minimum level" of sales to meet minimum agreed-upon royalties, and calls it an "extraordinary coincidence." MSLO claims that Macy's is liable for profit denied to Stewart's company because of its breach of the agreement.
Despite such tough talk, retail consultants say MSLO will likely settle, pay damages to Macy's, and move on. In fact, some argue, that was probably its intention all along. "My bet is Macy's gets millions of dollars in damages in a settlement, Stewart begins her new relationship with J.C. Penney, and Macy's moves on and gets a bigger and better celebrity," says Harley Lewin, an attorney who has defended such brands as Christian Louboutin and Alexander Wang in trademark and other cases.
Stewart still risks diluting her brand by putting it in too many places. On the other hand, says Stone, it's smart for Stewart to look for partnerships in areas where celebrity licensing is still novel, such as her home-office products line. Stewart is in a class by herself, says Phoenix Partners Group analyst Robert Routh. "Sure you have new names like Rachael Ray," he says. "Martha was the first. She is the original, like Betty Crocker, Pierre Cardin, Laura Ashley."
With Chris Dolmetsch in New York
Before it's here, it's on the Bloomberg Terminal.
LEARN MORE