Lin-sights From Peter Drucker
Rick Wartzman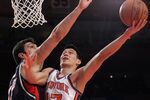 Peter Drucker was never much into sports (with the notable exception of baseball). But even Drucker would have been swept up by the phenomenon of New York Knicks bench-warmer-turned-global-sensation Jeremy Lin. That's because "Linsanity" offers some valuable lessons on managing information, innovation (or should I say, "lin-formaton" and "lin-novation"?), and more.
1.  Question assumptions. That Lin was undrafted by any NBA team, presumably because the kid from Harvard wasn't athletic enough to play at such an elite level, is a potent reminder of something Drucker used to say: "What everybody knows is frequently wrong."
The key for managers is to collect a range of information that doesn't simply validate preconceived notions. "A serious cause of business failure is the common assumption that conditions . . . must be what we think they are or at least what we think they should be," Drucker warned in Management Challenges for the 21st Century. "An adequate information system has to … lead [executives] to ask the right questions, not just feed them the information they expect."
2. Make sure the person you hire fits the job at hand. Although Lin clearly has many more physical gifts than was first recognized, it's also true that his penetrating style of play is perfectly suited for Coach Mike D'Antoni's up-tempo offense. In this way, Lin shows that when filling a position, managers first need to carefully define the assignment, and then find someone who is the right match (a topic I've explored before).
Many times, however, just the opposite occurs. Jobs are structured "to fit the personalities available," Drucker explained in The Effective Executive. The trouble is, this "sets off a chain reaction of changes throughout the entire institution. Jobs in an organization are interdependent and interlocked."
Before Lin emerged, the Knicks seemed to be suffering from exactly this problem; with no point guard able to consistently execute D'Antoni's system, it forced star forward Carmelo Anthony to handle the ball much more than he should have.
3. Exploit changes in perception. Thanks to Lin, people are smiling when they hear "NBA"—no small feat given that the season started with a bitter lockout, making both the owners and players look, in many eyes, like greedy jerks. Despite this, NBA Commissioner David Stern originally rejected Lin's participation in last Friday's Rising Stars Challenge game, part of All-Star Weekend. Lin was later added to the roster.
Stern's initial instinct was foolish. The NBA should be doing absolutely everything it can to capitalize on Lin's popularity. How can Lin's ascent help the league advance in China? What new packages and products can the NBA create, now that it has an incredibly inspiring story?
"In mathematics, there is no difference between 'The glass is half full' and 'The glass is half empty,'" Drucker wrote. "But the meaning of those two statements is totally different, and so are their consequences. If general perception changes from seeing the glass as 'half full' to seeing it as 'half empty'"—or in the case of the NBA, the other way around—"there are major innovative opportunities."
4. Fix bad habits. Drucker believed that it is far more important—and productive—for people to build on their strengths than it is for them to try to correct their weaknesses. But this doesn't mean that all of us shouldn't identify and work to eliminate what Drucker called "disabling habits"—those things "you do or fail to do that inhibit your effectiveness and performance."
In Lin's case, he turns the ball over too much. The good news is that he has recognized this flaw, and seems intent on rectifying it. "It's on me in terms of taking care of the ball," Lin said after he committed nine turnovers against the New Orleans Hornets. Such a remark suggests that Lin may well avoid what Drucker characterized as "the worst and most common" bad habit of all: arrogance.
5. Put the team first. Lin has demonstrated another trait, as well, that has immediately made him into a leader—indeed, the leader—of the Knicks: Time and again, he has tried to redirect the tremendous praise coming his way to his team and his teammates.
Great leaders "think of the needs and the opportunities of the organization," Drucker wrote, "before they think of their own needs and opportunities."
In a word, they display 'lin-tegrity."
Before it's here, it's on the Bloomberg Terminal.
LEARN MORE