Even Buffett Can't Stop Some Executive Payouts
by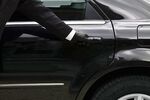 Warren Buffett's former protégé David Sokol is getting $1 million a year in retirement pay, even though Sokol resigned from Berkshire Hathaway last April after violating the company's insider trading rules. Sokol was chairman of Berkshire's MidAmerican Energy Holdings when he invested in Lubrizol a few months before Berkshire paid $9 billion for the chemical manufacturer. Sokol had personally recommended the acquisition to Buffett and has denied he did anything wrong. As we'll explain, even if Buffett wanted to withhold Sokol's payout, his hands may be tied.
In the past, Buffett hasn't been quiet about his distaste for golden parachutes. "Getting fired can produce a particularly bountiful payday for a CEO," Buffett wrote in his 2005 annual letter (PDF). "Indeed, he can 'earn' more in that single day, while cleaning out his desk, than an American worker earns in a lifetime of cleaning toilets. Forget the old maxim about nothing succeeding like success: Today, in the executive suite, the all-too-prevalent rule is that nothing succeeds like failure." (Buffett's emphasis, not ours.)
Buffett has gone so far as to call himself the "Typhoid Mary" (PDF) of compensation committees who has been "ostracized" from boards when he pushed for sane executive pay. At Berkshire, he said, things are different. "We issue no lottery tickets that carry payoffs unrelated to business performance," he wrote in 2006. Lest there be any doubt about who decides pay at his company, Buffett made it clear in 2006: "At Berkshire, after all, I am a one-man compensation committee."
Sokol's $1 million a year isn't a discretionary payout, however, but part of a supplemental retirement plan for executives, MidAmerican's annual statement says. That makes it less discretionary, says Mark Wincek, a partner at law firm Kilpatrick Townsend. Supplemental executive retirement plans, or SERPs, typically are predetermined and aren't tied to performance. "They cannot be unilaterally changed by the company to take away what you thought you had," he says. Spokespeople for Buffett, Sokol, and MidAmerican did not immediately return our Bloomberg colleagues' requests for comment.
The main exceptions in SERPs are so-called bad boy clauses that let companies limit payments because of misdeeds. MidAmerican's standard policy voids payments to executives fired for cause, but it gives an exemption for prior agreements. A source familiar with Sokol's situation tells our colleagues at Bloomberg News that Sokol did have an agreement that required the payouts, in essence negating the bad boy clause. That means Sokol can keep his $1 million a year—which Wincek estimates to have a present value of about $20 million. Even for an exiting executive, as Wincek says, that's "a decent amount."
Before it's here, it's on the Bloomberg Terminal.
LEARN MORE