pursuits
China's Charm Offensive: One Child Only, Pretty Please
The government's historically blunt message machine has taken a softer approach to population control
By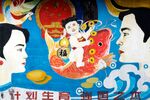 China's efforts at population control have historically left little room for interpretation. As one sign puts it, "Have fewer children. Raise more pigs."
Other mottoes that can be seen on billboards, banners, and painted on walls in China's rural areas: "To tie your tubes is to honor your family." "Everyone can have one child. Control having a second, eliminate the third." "Better to destroy my family than destroy my country." And, more threateningly: "Houses will be demolished and cows will be seized for rejecting abortion demands."
Blunt slogans don't just make rights-sensitive Americans shudder. Mottoes like these, common in China's countryside, are now the target of the National Population and Family Planning Commission. The agency, in charge of population control, recently launched a program to replace such harshly phrased slogans with "more pleasant-sounding alternatives," states an article on the commission's website. Still, officials maintain that people benefit from having fewer children.
Chinese officials, who have started fining women who give birth to a second child in Hong Kong, are serious about addressing overpopulation in the country of 1.3 billion people. They consider it one of the major challenges to social and economic development. (Anyone who has been to megacities such as Beijing or Shanghai knows how unbearably congested they can be). Now family planning officials—who have doubtless been firm—are attempting to also be, well, tactful in their messaging about birth control.
Local governments have been painting mottoes on walls and printing them on banners for decades to help enforce China's one-child policy and other agendas. The recent push to soften the tone follows gradual changes in policy to allow rural families, ethnic minorities, and couples without siblings to have two children.
The commission selected 190 politically correct slogans from a national campaign in 2007. Some options: "Mother Earth is too tired to sustain more children" and "Caring for girls is caring for the future of the nation," an implicit suggestion that couples shouldn't keep procreating until they have a boy. Also in a more subtle approach, the slogans are being sent in brochures to rural families rather than painted on buildings.
The new approach is comforting—relatively speaking. Still, when it's necessary to remind citizens that caring for girls is worthwhile, it seems tonal adjustments might not be sufficient to alter mindsets.
Before it's here, it's on the Bloomberg Terminal.
LEARN MORE