Chef Daniel Boulud's Office Bag Lunch
The Michelin-starred chef creates a tasty salad for the deskbound gourmand
by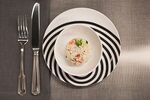 Few restaurateurs have enjoyed the success of Daniel Boulud, the French-born chef who oversees a constellation of upscale establishments across the world, from Montreal to Palm Beach to Beijing. His culinary footprint, however, is deepest in New York, the home of Daniel, DB Bistro, Bar Boulud, and DBGB Kitchen & Bar. His latest Manhattan-based venture is Epicerie Boulud, which opened its doors on the Upper West Side last year. Unlike his other restaurants, Epicerie Boulud is part oyster-and-wine bar, part walk-in grab-and-go market, with premade "box lunches" assembled around sandwiches made from Parisian ham, suckling pig confit, and Thai sausage, among other ingredients. Epicerie Boulud also sells an array of fruits, gelato, and cheeses.
Bloomberg Businessweek asked Boulud to reveal his version of the perfect bag lunch for the epicurean office grunts among us—a portable meal that's better than leftovers in a ziplock bag, but also simple and easy enough that it doesn't require experience with molecular gastronomy or a sous vide machine. It should be prepped at home and consumed at the cubicle. He chose a rice salad. "My mother made it on the farm, so it has the taste of home," he says. "When she knew we would be busy outside all day, she made it in the morning and refrigerated it. It was a practical one-dish meal: veggies, starch, and protein, all in one. It's refreshing and satisfying, but not something that weighs you down at lunch. It also stands up to being made hours ahead." We're sold. Here's how to make it. Portion as you see fit. In typical French fashion, measurements are imprecise—you must feel it.
Daniel Boulud's Rice Salad
Ingredients:
Basmati rice
Tomato
Egg
Celery
Cucumber
Canned tuna
Lemon juice or white balsamic vinegar
Salt and pepper
Basil or niçoise olives
Directions:
"Combine a few cups of cooked basmati rice at room temperature with diced fresh tomato, celery, cucumber, and hard-boiled egg. Add some pieces of canned tuna fish, minced fresh chives, and/or basil and pitted niçoise olives. Dress with olive oil and a few drops of either freshly squeezed lemon juice or white balsamic vinegar, some grated lemon zest, and salt and pepper to taste—and you've got a refreshing, tasty, and healthy lunch."
Before it's here, it's on the Bloomberg Terminal.
LEARN MORE