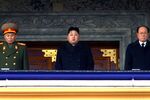 Washington Examiner subscribers woke to a provocative ad (PDF) in their newspaper this morning that compares a unionized workplace in the U.S. to the totalitarian dictatorship of North Korea. "In North Korea people don't get real change," the ad says. "American union members don't either."
The same ad ran in the Las Vegas Review-Journal yesterday and in the New York Times in January. It's part of a $10 million public-relations campaign by the Center for Union Facts, a nonprofit funded by corporations, that targets unions and urges passage of the Employee Rights Act, a bill in Congress that would require secret-ballot votes in union organizing.
Rick Berman, a Washington PR executive whose firm is managing the media blitz, says he came up with the idea for the ad shortly after Kim Jong-il died in December and the dictator's son, Kim Jong-un, took over. "It was interesting to juxtapose [the transition of power in North Korea with] the fact that once a union is in a workplace, it's almost impossible to ever get them out of a workplace," says Berman, noting that the proposed legislation has support among union households.
But wouldn't some people consider the comparison of union bosses to a regime that starves and tortures its own people extreme?
"That's clearly a stretch," Berman tells me. "That's not what the ad says. It says the regime in North Korea never changes. And we're saying once a union is in a workplace, it never gets out of there; you never get a nonunion workplace. That was our comparison."
Before it's here, it's on the Bloomberg Terminal.
LEARN MORE