To Rick Santorum: On Church and State, Heed Lincoln
By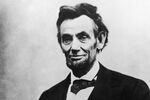 Rick Santorum says a speech by Democratic President John F. Kennedy on the separation of church and state makes him want to "throw up." But if the presidential candidate wants to win over business, he would do well to emulate another Republican, Abraham Lincoln, who was skeptical of using religious precepts to decide public matters.
Most American businesspeople, whether religious or secular in their personal lives, are all business when it comes to running their companies. They understand and respect that their employees, customers, and suppliers may have religious beliefs that differ from their own. When it comes to government, some think it should ban abortion and gay marriage; others don't. For most, it's more important to know where candidates stand on taxes, regulation, and reigniting economic growth. For businesspeople, the obvious problem with using religious doctrine to decide social issues is that you don't know whose religious doctrine to use. It's not just CEOs who disagree; it's priests, ministers, rabbis, and imams who disagree with one another.
That's what Abraham Lincoln discovered in 1862 when he was making up his mind whether to issue the Emancipation Proclamation, which freed the slaves in the Confederate states. Said Lincoln:
I am approached with the most opposite opinions and advice, and that by religious men, who are equally certain that they represent the Divine will. I am sure that either the one or the other class is mistaken in that belief, and perhaps in some respects both. I hope it will not be irreverent for me to say that if it is probable that God would reveal his will to others, on a point so connected with my duty, it might be supposed he would reveal it directly to me; for, unless I am more deceived in myself than I often am, it is my earnest desire to know the will of Providence in this matter. And if I can learn what it is I will do it! These are not, however, the days of miracles, and I suppose it will be granted that I am not to expect a direct revelation. I must study the plain physical facts of the case, ascertain what is possible and learn what appears to be wise and right.
Study the facts and learn "what appears to be wise and right." In a nation as religiously diverse as the U.S., that's a good strategy for any president—Republican or Democrat.
Before it's here, it's on the Bloomberg Terminal.
LEARN MORE