To Hire Seasonal Workers, 575 Pages of New Rules
By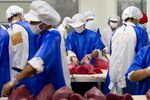 Employers who rely on low-skilled workers from abroad have a new set of rules to digest. On Feb. 10, the Labor Dept. issued 575 pages of regulations for its H-2B visa program that U.S. employers use to bring foreign nationals to fill temporary non-agricultural jobs. H-2Bs generally allow for a maximum 10-month stay and are often used by small, seasonal businesses such as housing contractors, landscapers, and seafood processors. The application process, which involves filing paperwork with the Labor Dept. and Immigration authorities, has been growing steadily more complicated and time-consuming. Now it's even tougher.
Among the biggest changes in the new rules, which go into effect on April 23: They'll have to demonstrate to state agencies—not merely attest—that they weren't able to locate enough U.S. workers. They'll have to post the jobs in a national online registry administered by the Labor Dept. and start advertising in local publications about two weeks earlier than in the past. And they'll also be responsible for employees' travel costs to and from their home countries, provided the worker completes a certain number of days on the job.
The goal of the new rules is to respond to efforts by the Obama administration to increase employment. "The H-2B program is designed to help businesses when there is a temporary shortage of U.S. workers," Secretary of Labor Hilda L. Solis said in a statement. The changes "will ensure that the program is used as intended by making these jobs more accessible to U.S. workers and providing stronger protections for every worker."
Seventh-generation oysterman Mike Voison, chief executive officer of Motivatit Seafoods, an 85-employee seafood supplier and processor in Houma, La., says he'd prefer to hire locals, rather than foreigners. But since Hurricane Katrina, Voison has struggled to find Americans willing to do the low-wage work. (Pay at Motivatit starts around $8.50 an hour.). "You say there's an 8.5 percent unemployment rate in America," says Voison. "Look, I would love every one of those 8.5 percent to come work."
Voison is concerned that the new rules will "hurt American jobs." For every one of the 30 or so H-2B workers he employs, "there are about two American jobs that I feel are supported by that," says Voison. "I have a management team, I have truck drivers, I have people that make boxes, I have people that pack the product, I have American jobs in the plant besides those."
Voison has been contemplating building a facility in Mexico where "ample labor" exists. "That would be terrible—my community depends [on us]," he says, but the new rules "are just not going to work for bringing in foreign labor."
Before it's here, it's on the Bloomberg Terminal.
LEARN MORE