Three Dinner-Party Opinions: The Oscars
John Lopez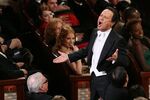 Pro: Christopher Plummer, Colin Firth, and the French, with all their giddy acceptance speeches for The Artist, brought a touch of class back to Hollywood. Billy Crystal righted the Oscar's rocky boat with his steady vaudeville hand, restoring just the right kind of laughs to the relatively trim three-hour ceremony. Meryl won an Oscar; Woody Allen didn't show up for his; and Natalie Portman looked stunning. Everything was as it should be.
Con: J-Lo, Cameron Diaz, and Angelina's right thigh were just plain silly, and even Robert Downey Jr.s' charisma wasn't enough to enliven a stale bit. Sure, Billy Crystal's sly shtick was an improvement over last year's Hathaway-Franco travesty, but the slight stiffness in his joints hints at just how out of touch and irrelevant the ridiculously white, male Academy is. Tinseltown's glitterati are beginning to show some signs of rust stains.
Hedged: Crystal said it himself, millionaires handing each other gold statues doesn't mean much to a world dealing with unabated economic crises and the incessant war drums of the Middle East. Still, what else is there to watch on a Sunday night in February that requires minimal brain power? At least we got to see a nifty Cirque du Soleil act, and the kids laughed when Sacha Baron Cohen spilled ashes on Ryan Seacrest.